With the Summer months fast approaching and all of the dresses, skirts and bikinis lining your wardrobe just waiting to be worn; now is the time to get your skin looking at its best. There's nothing worse than the look and feel of parched skin when it's finally going to be making an appearance after a long period of hibernation! It's easy to keep our legs hidden and face covered in hats and scarves during the colder spells, forgetting to care for our skin sufficiently; but before it's too late, learn how to keep your skin hydrated with these top tips and get Summer ready skin in no time at all.
Why It Is Important To Keep Your Skin Hydrated
We all know that it doesn't feel or look great to have dry and cracked skin, but there are a number of other reasons why keeping our skin hydrated is important. By keeping our skin sufficiently watered, our natural production of hyaluronic acid is enhanced. This particular molecule is responsible for retaining moisture within our skin, keeping it looking plump and maintaining its resilience. This magical stuff is also anti-inflammatory and has anti-ageing properties, so in keeping your skin hydrated and this the natural hyaluronic acid boosted, you're helping to protect your skin against a number of things. Let's look into 10 super easy ways to keep your skin glowing from head to toe, ready for the Summer sunshine.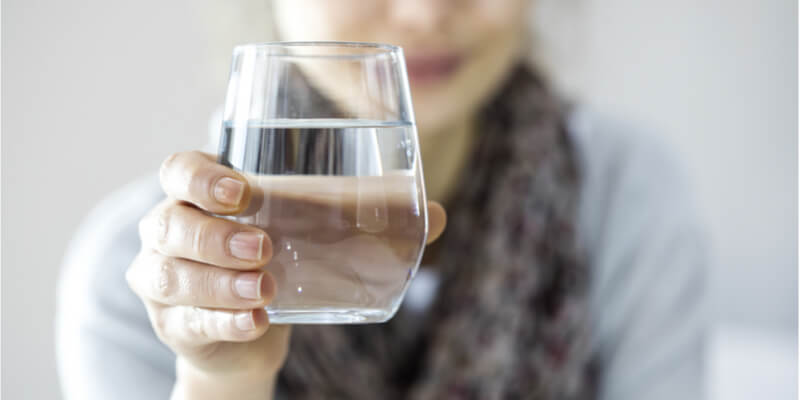 1. Drink Plenty Of Water
This is important for so many different reasons concerning your overall health, but particularly when it comes to keeping your skin sufficiently hydrated. As mentioned above, water will help to fuel our natural production of hyaluronic acid, helping our skin to look lovely and healthy. Throughout the day, your body is constantly losing water; whether that be through exercise or consuming too much caffeine. This means, that if the body isn't topped up regularly, we become dehydrated as water is pulled from our natural resources to compensate for the loss. This is when our skin begins to suffer.
To avoid this from happening, the consensus is that we should drink between 6-8 glasses of water a day. It may seem like a lot, but if you want to see noticeable differences in your skin, this is probably the cheapest and easiest ways to do it. Take a look at this article from Heathline on the importance of drinking water and how much you should aim to consume. If you find it hard to remember to drink water throughout the day (it happens to the best of us), why not buy one of these handy hydration tracking water bottles. Or, if you happen to be a fan of a certain programme (hint. it involves love and an island), then this gives you the perfect excuse to buy one of these. You are welcome.
2. Wear Sunscreen
Like many people, you may think that sunscreen is only needed if the sun is out – but this is a myth. UV rays can actually pass through clouds and glass, meaning that even if it's overcast, your skin will still be exposed to the sun's damage. UV rays will draw out the moisture from your skin, making it more prone to dehydration and dryness. By wearing sunscreen, you'll be helping your skin to retain its water and remain hydrated at all times.
If you don't fancy loading up your skin with sunscreen every day, don't worry, you don't have to. Many moisturisers come with an SPF factor built-into the formula, meaning that you can implement it into your daily skincare routine easily. Check out the range of SPF moisturisers at Feel Unique – a great selection, no matter what your budget may be.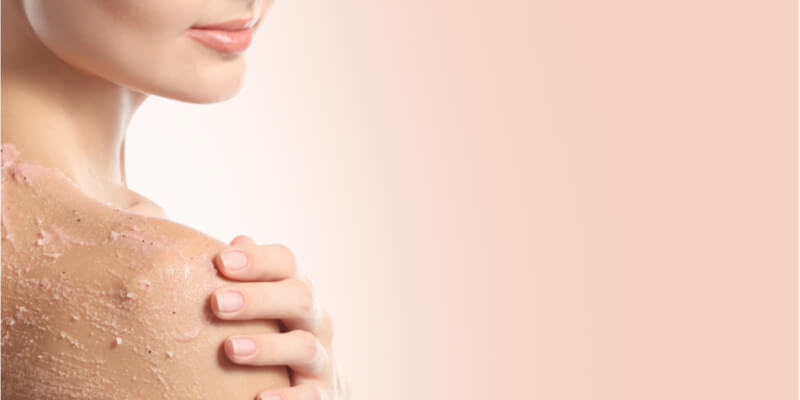 3. Exfoliate
By exfoliating your skin, you'll be washing away dead skin cells, allowing your skin to fully soak up moisturising products. If you don't regularly exfoliate, your pores will clog up and prevent moisture from sinking into the skin, leaving it more prone to dehydration. It's important not to over-exfoliate, however, as this can cause skin irritation; instead, aim to add this into your routine around 2 times a week and just once for those with sensitive skin.
Beauty Bay have a great selection of products for your face, body and lips – they've got all of your exfoliation needs covered.
4. Use Essential Oils
These magical oils have long been the answer to many health issues, and skin dehydration is no exception. While anything with 'oil' in the title might sound like a greasy nightmare waiting to happen, this isn't the case when used correctly. Essential oils have amazing healing properties for both the skin and body, particularly Tea Tree and Rose, and are actually found infused with many popular skin care products because of this.
Take a look at this article from Power of Positivity for a full explanation of the benefits of essential oils on dry skin, and how they can be applied.
5. Avoid Hot Showers
While we all love a hot shower, to relax us at the end of a long day or wake us up on those early mornings, our skin is not such a big fan of the heat! While it may sound a little contradictory, hot water has a nasty habit of drying out our skin. Hot water can actually strip the top layer of skin away, depleting the natural oils from our epidermis and ultimately drying it out. With this in mind, try to have lukewarm showers wherever possible, in order to protect your skin from becoming unnecessarily dehydrated.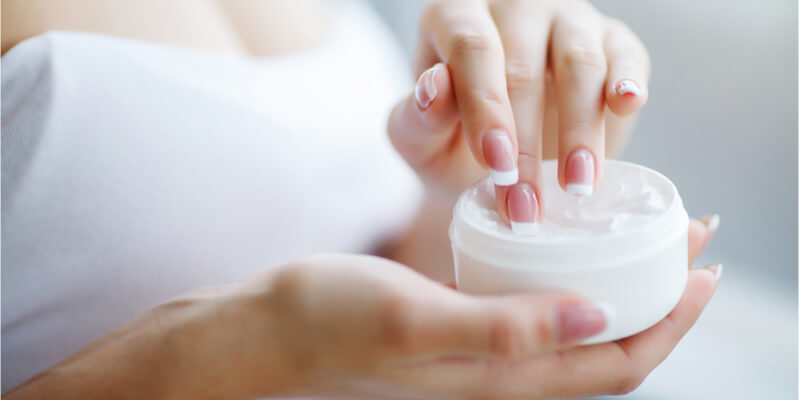 6. Moisturise
This is kind of an obvious one and something that we should all be doing in order to maintain a certain level of skin hydration. By failing to keep our skin moisturised, after washing, when waking up and at the end of the day, it will be more susceptible to dryness. Use a daily moisturiser on your face and an all over body moisturiser for after showers and baths; to help prevent your skin from drying out.
There are moisturisers for every possible need, so it's a good idea to go and talk to a professional, in order to determine your skin type and find the best product for your needs. As skin specialists, the team at LasaDerm are always happy to talk through any skin complaints and discuss possible treatments.
7. Take Vitamins
It seems that there are vitamins and supplements for every possible ailment nowadays; so much so, it's all become a bit of a minefield. Don't disregard them just yet though, as there are actually quite a few that could help with your dry skin woes. Vitamin E is potentially one of the favourites, found in creams as well as tablet form, so very accessible should you want to give it a go. Full of antioxidant and anti-inflammatory properties, this particular vitamin is perfect for those suffering with a parched epidermis, so invest in some pronto in order to reap the benefits. The Body Shop are well known for their wide range of Vitamin E products, so take a look if this is something that you'd like to incorporate into your skin regime.
8. Use Aloe Vera
For centuries, aloe vera has been used to treat many skin complaints and is commonly used today for bad cases of sunburn. This is due to its incredibly hydrating and healing properties, all of which can be applied to the skin on a daily basis. Don't wait until you've spent a little too much time under the sun, take a look at the extensive range of products from ECCO Verde and use aloe vera in any form to help your skin along in the moisture department.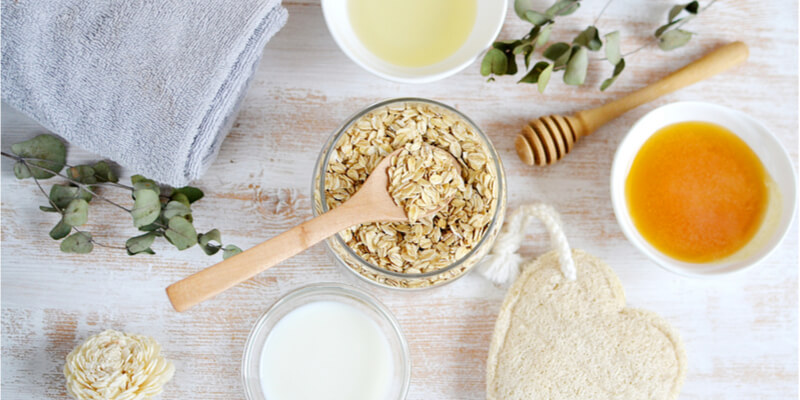 9. Go Natural
Along the same lines at the last tip, why not look to natural products to help keep your skin hydrated. While creams and lotions are hugely beneficial in keeping skin hydrated, there's no harm in looking to home remedies that boast hydrating properties of their own. A great way to do this is to make skin packs from natural items, such as honey, milk, coconut oil and cucumber and apply them to your skin in order to keep it beautifully moisturised. Have a look at these all-natural moisturiser recipes from Mind Body Green and get making.
10. Sleep With A Humidifier
Last but not least, and probably at the higher end of the budget, is investing in a humidifier. Your skin isn't just prone to drying out while you're awake; the moisture continues to drain from our skin while we sleep as well! By placing a humidifier in your bedroom while you sleep, your skin will be able to capture moisture while you catch some Z's, leaving it feeling softer and healthier by the time the sun comes up. Take a look at this article from Bustle listing the best humidifiers on the market for dry skin.
Make Parched Skin A Thing Of The Past
Don't leave your skin crying out for moisture; implement just a few of these tips on a regular basis and your skin will look and feel healthier than ever.
As skincare specialists, providing services in many areas, such as laser hair removal in Milton Keynes along with makeup procedures, including semi-permanent eyeliner in Buckingham, we regularly advise clients on how to keep their skin sufficiently prepped and hydrated. Skin is our area of expertise, so no matter what you may need help with, the LasaDerm team are always on hand to answer any questions. Why not give us a call, or share our article on social media to give your friends some great skin care tips for Summer.