Don't Let Moles Hold You Back Any Longer
With the weather continuing to rise in temperate this Summer, it's been almost impossible to stay completely covered. With this in mind, it's no wonder that for those who suffer from unsightly moles, the warm weather comes with a feeling of somewhat dread.
In this day and age, you shouldn't have to suffer from your mole insecurities. At LasaDerm, we believe that everyone should be comfortable enough to show as much, or as little skin as they like.
When moles are in a visible place, like the face, for instance, it doesn't really matter whether its Summer or not. Moles on the face are always on show, and unfortunately, this can really affect confidence. Thanks to the latest techniques, they can be effectively removed from the face and body to restore the comfort and appearance of your skin – giving you your confidence back.
There are different types of mole removal, including cautery, laser, PlexR and of course, excision. The method of removal depends on the size, shape and nature of the mole. At your FREE NO OBLIGATION CONSULTATION, our doctor will discuss with you which type of mole removal is best for you.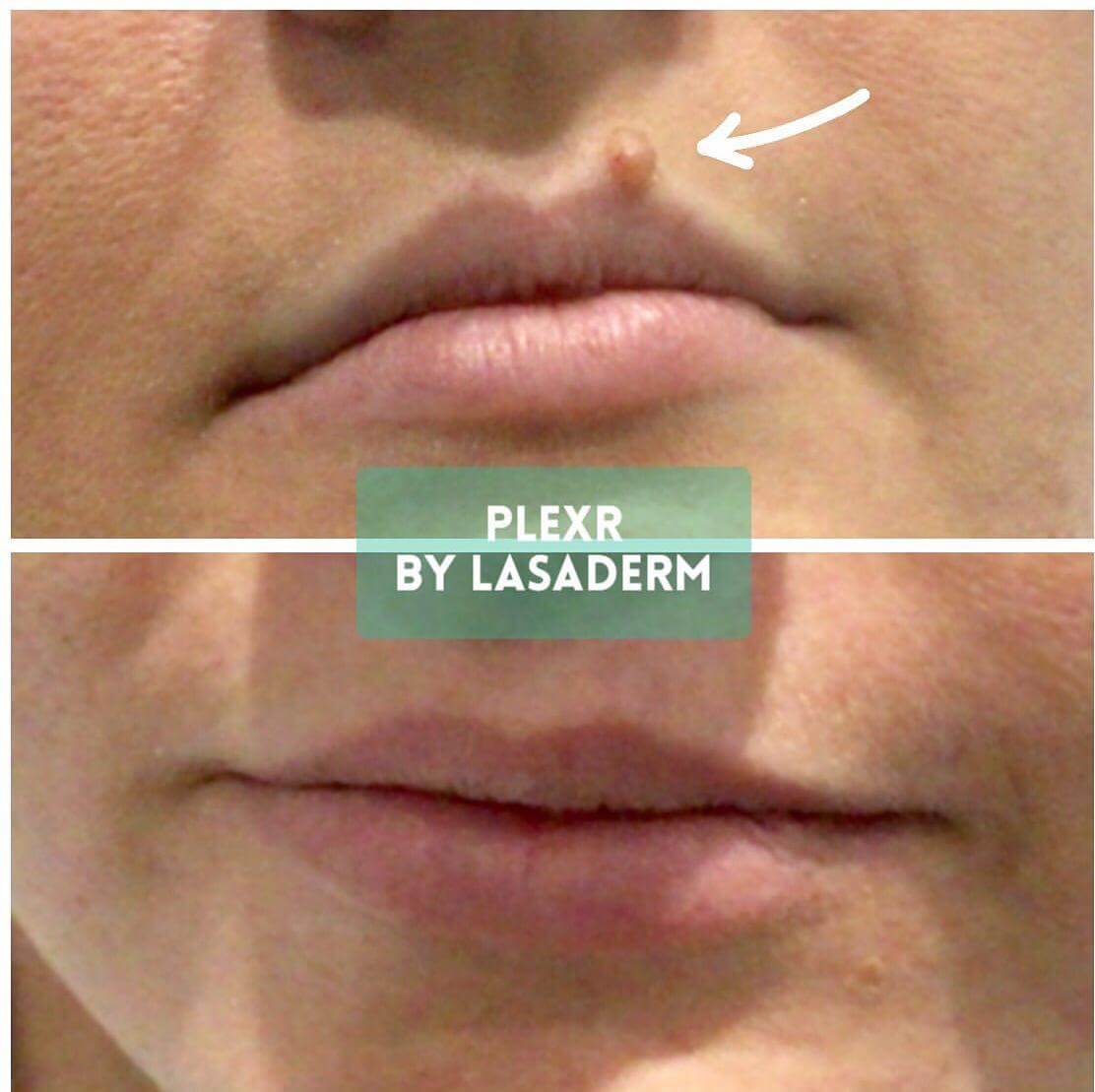 Treatment Overview
If you thought that your mole could only be removed by having it cut out –think again- because we have news for you. PlexR mole removal is a safe and accessible way to swiftly treat these nuisance growths and lesions, without cutting, without stitches and with no downtime leaving you with clearer, smoother skin.
If you're concerned or even embarrassed about moles, cysts, skin tags or lesions, we can carry out a simple procedure designed to remove them. At LasaDerm, all mole, cyst and skin tag removal procedures are performed by PlexR Removal. At LasaDerm, all mole removal treatments are performed by our highly qualified and experienced doctor with over 25 years of expertise.
Before & After PlexR Mole Removal Results – no cutting – no stitches
If you are a client of ours, you will know that we strive to make you look and feel your best and you will have seen it in the results you have had with us. But if you haven't been to us, then as with anything, the proof is most certainly in the pudding. Here is just how we've helped some of our hundreds of clients' look and feel fantastic.
Before And After Photos
What Does PlexR Treat?
PlexR Removal is not just for removing moles. PlexR could also help treat any of the following:
Moles (benign intradermal naevus)
Papillomas (skin tags) on the body and face including eyelids
Seborrhoeic keratoses
Seborrhoeic warts (large warty skin lesions usually occurring from the age of 40 years)
Viral warts on the hands, lips, and eyelids
Dermatofibromas (raised firm skin lumps due to skin trauma, for example from an insect bite)
At LasaDerm, we want to be your clinic of choice in all things, and your journey with us starts with care. Why not give us a call on 01908 555595 to book a FREE no obligation consultation with our fully qualified and experienced doctor.