Client Brief
Adam originally presented to LasaDerm when he was accompanying his girlfriend for some treatment. During one of the treatment, he enquired if anything could be done for his eyes. He had started a new job in Finance in London and the travelling and long days had given him dark circles and his eyes had taken on a hollow look. They were due to be going to meet her family, and he was conscious that he appeared to look tired and a "little haggard." He had previously tried over-the-counter eye creams to no avail.
Consultation Overview
In the consultation and upon examination, he had a clearly defined mild to moderate tear trough deformity with the presence of a palpebromalar groove, which pronounced his 'dark circles'. There was also a degree of hyper pigmentation of the skin underneath the eye.
Treatment Overview
The option taken was to smooth the tear trough filler in Milton Keynes by injecting dermal filler between the deeper layer of the skin and fat. The product choice was Teosyl Redensity II; this is because it has a low hygroscopic behaviour due to the mixture of cross-linked and non-cross-linked hyaluronic acid at 15mg/g concentration. We have found that due to this, it is less likely to swell within the periocular area in comparison to other fillers. This was done using a blunt cannula to minimise the risk of bruising and post-procedure swelling.
The results are instant and at the 2-week review once the product and swelling had settled any tweaks required are complementary and part of the service.
Client Before and After Pictures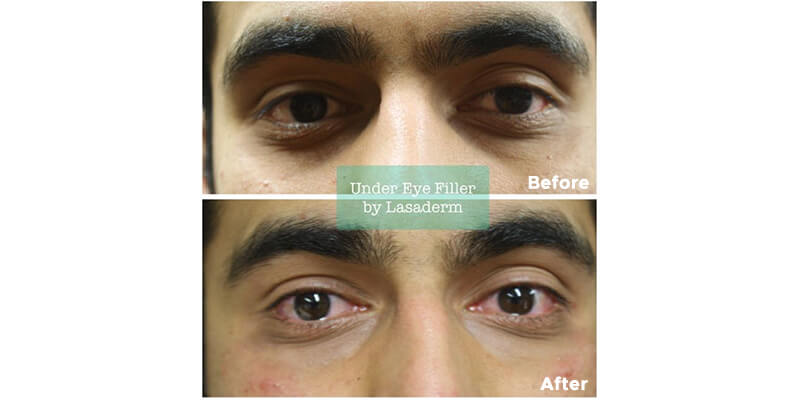 Customer Feedback
"I was amazed at the tear trough treatment. I was a bit freaked out about having something done so close to my eyes, but in comparison to my girlfriend's lip filler, this really seemed fine. It wasn't painful at all except the start when they put the needle in as the rest is done by a cannula.
I couldn't believe that it was possible to have this done within the 15 minutes it took the doctor to do it. Although I think he does a fair few. In the time I was waiting for my consultation I met 2 other clients who had just had theirs done. As I was a bit nervous, the staff asked them to talk to me, and that was quite reassuring.
The results really are instant. My hollows are completely gone, and my dark circles are a lot better too."