Book an Appointment with us Today!
Acne Scarring
Acne is a disorder of the skin's sebaceous glands that affects over 80% of the population aged 14-30. Although commonly considered to be an adolescence problem, in fact, adult-onset acne is becoming increasingly common.
Acne is a characterised by comedones (blackheads and whiteheads) and pus-filled spots (pustules). Though not life-threatening, acne is a potentially disfiguring skin disease. It affects the glands in the skin which secrete the natural lubrication (sebum) for the hair follicles and surrounding skin, which are located in greatest concentrations on your face, back, shoulders and chest.
Acne can develop for the first time in people in their late twenties or even the thirties.
It usually starts at puberty and varies in severity from a few spots, to a more serious problem that may be embarrassing, affects self-confidence and causes scarring.
We fully understand the personal distress acne and post-acne scarring can cause. Our experienced Cosmetic Doctor has sourced the very best clinically proven treatments to control and improve the appearance of acne and acne scarring.
Before & After Pictures
Get instant results with our acne treatments; often acne can appear at the most unexpected times in our lives. By receiving a course of acne treatments, you can visibly see a reduction in redness, soreness and spots.
Acne Before and After (With Antibiotics and LED)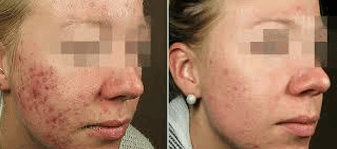 Acne Before and After (With Antibiotics, LED and Laser)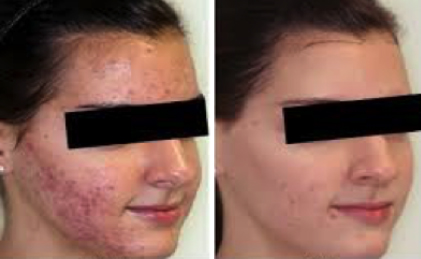 Acne on Face Before and After (With LED)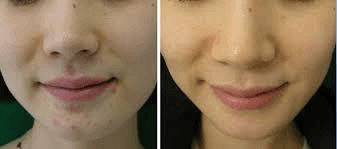 Acne Scarring Before and After (With Dermaroller)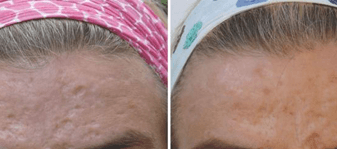 Acne Scarring Before and After (With Dermaroller)

Our Prices
| Procedure | Price Per Treatment | No. of Sessions | Price Package |
| --- | --- | --- | --- |
| Laser/IPL | £140 | 3-6 | 3 treatments – £250 |
| Microdermabrasion | £89 | 3-6 | 3 Treatments – £150 |
| LED light therapy | £40 | 4-8 | 4 Treatments – £100 |
| Acne Peels | £150 | 3 | 3 Treatments – £350 |
| The Perfect Peel | £375 | 1-3 | 3 Treatments – £900 |
| Dermaroller/Dermapen | £300 | 3 | 3 Treatments – £750 |
Customer Testimonial
"I had quite bad acne as a teenager but it came back a year ago – I am in my early thirties and I was quite distressed. I was referred back to my GP who was asked to prescribe antibiotics and I was also put on their acne products for cleansing and moisturising. I also had a package of 3 peels and I have to say they managed to get it under control quite quickly."
Dorothy
19th September 2021