Book an Appointment with us Today!
Our Skin Pigmentation Treatments
At LasaDerm we understand how distressing living with pigmentation can be. Although there is no cure, we are proud to have helped many women and men regain their confidence by improving its appearance. Our doctor is highly experienced and skilled in delivering a variety of skin pigmentation treatment options.
The treatment for pigmentation is often referred to as Photorejuvenation, Skin Rejuvenation or Intense Pulse Light Treatment.
Photorejuvenation is one of our most popular skin rejuvenating treatments for the face and can also be highly effective on the neck, décolletage and hands.
Photorejuvenation can be used to treat:
Sun Damage
Age Spots
Pigmentation
Broken Capillaries
Treatment sessions take just minutes – so you can resume your busy life quickly, feeling better about your skin.
Cutting edge technology
Our Lumenis M22 platform is the fourth generation intense pulsed light and ND:Yag system. This patented state of the art technology coupled with our in-treatment cooling system provides safe and comfortable treatment.
Treatment Information
Photorejuvenation or (IPL- Intense Pulsed Light) treatments are most commonly used for
Lightening and removing "sun spots", "age spots", and brown blotches on the face, neck, chest, hands and other areas of the body.
Lightening and reducing redness, rosacea, dilated blood vessels and "broken" blood vessels on the face, neck and chest.
Helping to control flushing.
It also has an effect of improving skin texture through collagen stimulation and improves pore size.
Photorejuvenation, when done properly, almost always consists of a series of 4 treatments, every four to six weeks. The benefits of photorejuvenation treatments are achieved with little discomfort and minimal risk.
Why Intense Pulse Light photorejuvenation is best for removing age spots and sun damage
Intense Pulsed Light treatment or Photorejuvenation is a non-surgical approach for treating age spots and sun damage. It uses a powerful light-based technology to target unwanted pigment without harming surrounding skin. In just a few simple treatment sessions, pigment appears lighter and skin looks clearer and younger.
Before & After Pictures
Before booking in for a skin pigmentation treatment, we understand that it would be nice to see how past clients have got on with their procedure and how successful their results were. This is why we make before and after pictures a vital addition to our website.
If you have a skin imperfection that you would like solved, but not too sure whether we can be your solution, get in contact with our friendly team! We are dedicated to helping as many clients as possible and can tailor treatments to you.
Book Appointment
Pigmentation Face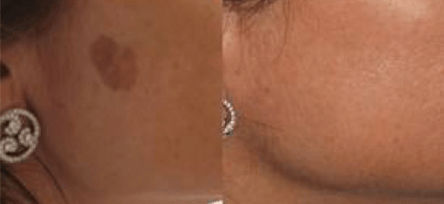 Pigmentation Hand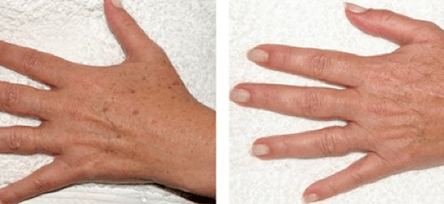 Pigmentation Before and After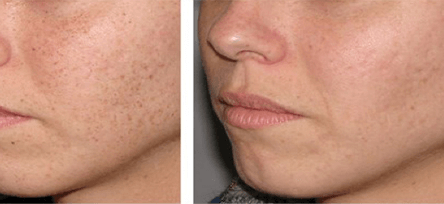 Our Prices
| Procedure | Price | Course Of 4 |
| --- | --- | --- |
| Single Treatment | £200 | £840 save £60 |
| Spot Treatment | £80 | £250 save £60 |
When You Buy a Course of 4 We Will Give You the 5th Free
Customer Testimonial
"I had originally opted for a pigmentation treatment on my face at LasaDerm and was so impressed that I decided to go back for treatment on my chest too. My skin was quite wrinkly and pigmented as I was a sunbed worshipper for years. I'm so impressed with my results, the team even managed to remove a couple of big marks that I thought I could never get rid of! After my treatment, I was also given helpful advice and recommendations on how to keep my skin healthy and away from sun damage to stop any more marks forming in the future!"