Whether you are a lover of cosmetic procedures or are considering treating yourself to an enhancement for the first time, it is important to spend time researching before going ahead. With a wealth of filler options now available, it can be tricky to know where to begin your aesthetics journey. One question that we are often asked at our cosmetic clinic is "where can you have dermal fillers on your face?" and the answer is, just about anywhere! Depending on the beauty dilemma that you wish to rectify, dermal filler can be placed in different areas to subtly enhance your features. To give you an idea on which route to go down before popping in for a consultation, we have put together a guide to all of the possible uses of dermal fillers.
Where Can You Have Dermal Fillers In Your Face? A LasaDerm Guide To The Top Filler Treatments
By far, one of the highest requested treatments at LasaDerm is dermal fillers in Milton Keynes, which is why we have refined the art of natural enhancements to provide our lovely clients with several options to choose from. We use several different filler types, based on the treatment and client requirements, including Restylane, Emervel Juvederm, Beletero and Radiesse.
As all dermal filler is hyaluronic acid-based, it means that it is a gel-like consistency, which makes it super versatile for use in multiple areas of the face. The product has an excellent safety profile and offers far more predictable results than its alternatives, allowing the skin to be volumised and softened in minimal time. Our doctors opt for injecting dermal filler using a cannula as this lessens the likelihood of bruising while making the results more even. Depending on the area that you wish to treat, the amount of filler used will differ, which means that both the length of the treatment session and how long the results will last for will also vary.
So, now that you are familiarised with the nature of dermal filler, let's take a closer look at where the product can be used on the face and the treatments available: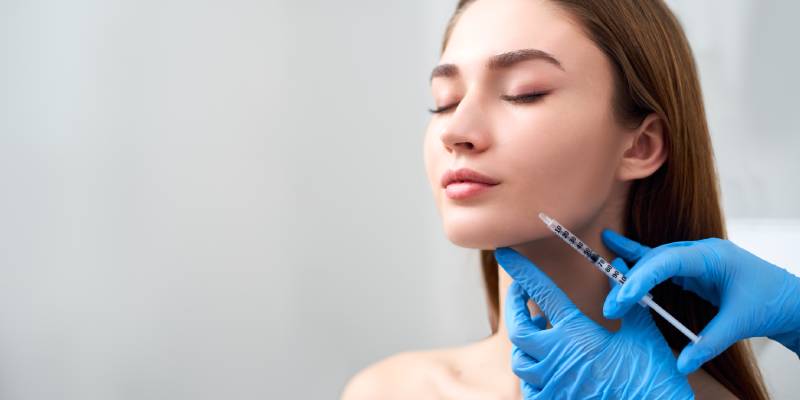 One of the most common insecurities is the nose, whether this may be down to shape, size or symmetry. While in the past, the only way to alter the appearance of your nose would be to go under the knife for a surgical nose job, this is no longer the case. Through delicately injecting small amounts of filler into different areas of the nose, you can achieve equally as effective results, without the pain and downtime associated with a traditional rhinoplasty. Non-surgical rhinoplasty is also a far safer alternative as the treatment is non-invasive meaning that no incisions are made to the skin, leaving no risk of scarring.
Depending on the reason behind your non-surgical nose job, the dermal filler will be placed in different positions. For example, if you would like to add more definition to your nose, then filler will be injected into the tip, which will create a projected, lifted appearance. On the other hand, many clients approach our doctors as they have the common bump or dent on the bridge of their nose, which impacts their self-esteem, particularly with regards to their side profile. In this instance, the filler will be placed either around the bump or into the dent, creating symmetry while making the nose appear slimmer. Both of these options will take only 10 minutes to complete and offer the client instant results, although it will take a few days for the filler to settle. For a full guide on everything you need to know about non-surgical nose filler, take a look at Harpers Bazaar.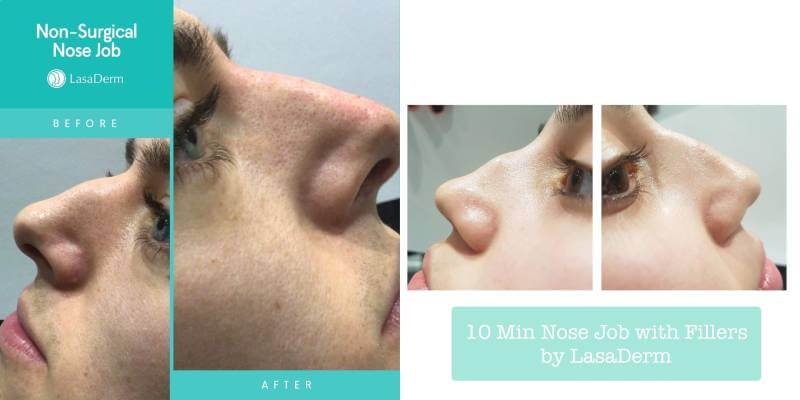 Do you find yourself constantly restocking your concealer to cover those frustrating undereye circles that never seem to disappear? Or have to you spent a fortune on products promised to brighten the eyes but had no luck? These are both super common amongst a number of our clients, and you would be pleased to know that dark eye hallows can be resolved through dermal filler. A tear trough treatment involves injecting dermal filler underneath the eye, between the bone and muscle, adding volume and reducing indentations. In return, your appearance will be instantly revitalised, and any fine lines will be unnoticeable, making your eyes look dramatically brighter. This makes the treatment not only sought-after for those with dark circles but also sunken, hollow eyes; both of which become common with age.
Much like the non-surgical nose job, a tear trough treatment takes as little as 20 minutes to complete, and you are free to resume your daily activities afterwards. You will be given a handful of aftercare instructions, such as not to sleep facing down and to apply ice to the area, but it will be nothing more than a few simple recommendations to maximise your results. The filler can then last anywhere up to two years before a top-up is required, but as always, every client is different, so this may be slightly more or less depending on your circumstances.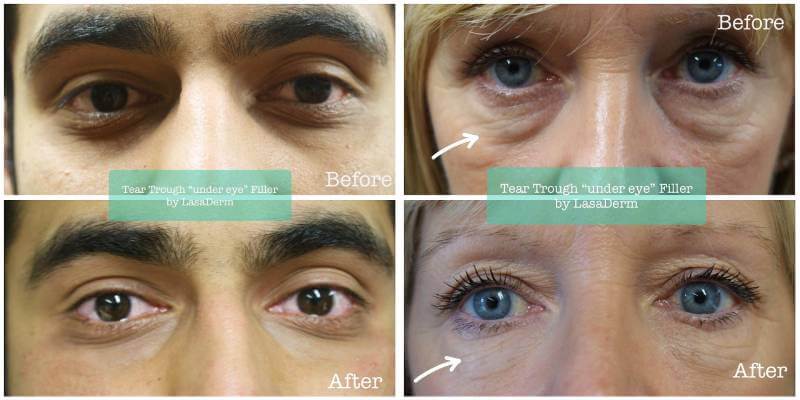 You will not be surprised to find that one of our most commonly requested treatments, of course, is our lip enhancements in Bedford and the surrounding areas. With our favourite celebrities from Kylie Jenner to Bella Hadid all sporting the perfect pout, plumping and defining the lips has become more popular than ever. Not only this, but using dermal fillers on the lips can also help to turn the corners of the mouth upwards and create a more youthful appearance, making the treatment suited to all ages.
The dermal fillers used for lip enhancements is commonly either Restylane or Juvederm as these remain the leading products on the market. They are also designed with a built-in anaesthetic which makes the treatment as comfortable as possible for the client. Depending on the look that you wish to achieve, the filler will either be focused on defining the borders, plumping the body of the lip or a combination of both. If it is your first time getting lip fillers and you are hoping for a dramatic transformation, then it is vitally important to keep in mind that this will be a process and injecting only a small amount of filler each session will always be recommended. Once complete, your results will last 9 to 12 months before a top-up will be needed.
As well as enhancing the appearance of lips, dermal filler can also be used around the mouth to treat smoker's lines, for example. In this instance, the filler will be used to smooth any creases around the lips and is likely that a small amount will also be placed in the lips to make them appear naturally fuller.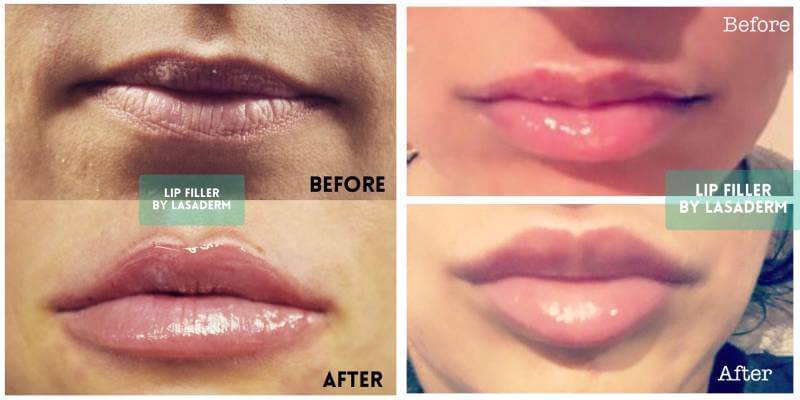 For many, no matter how much you eat healthily, exercise and lose weight, it is still impossible to achieve a defined, strong jawline and remove stubborn fat around the chin. If you are nodding your head in agreement and have been attempting to sculpt your side profile for years, then once again, dermal fillers are your answer. Jawline and chin filler, otherwise known as a contouring treatment, allows you to enhance the natural contours of lower areas of your face, making it appear slimmer and more defined. This is a treatment that is very much designed bespoke to the client, taking into consideration their face shape and features, ensuring that the results are subtle and complement their face. How long it will take and the amount of filler used, again, will depend on desired results, but this will always be discussed during your initial consultation.
Along with defining the jawline, dermal fillers have other uses for altering the lower face. Not only can fillers be used to soften the angle of the chin but also lift sagging skin around the neck. Our team are always more than happy to run through the various options to choose from, so do not hesitate to book a consultation for more details on facial contouring!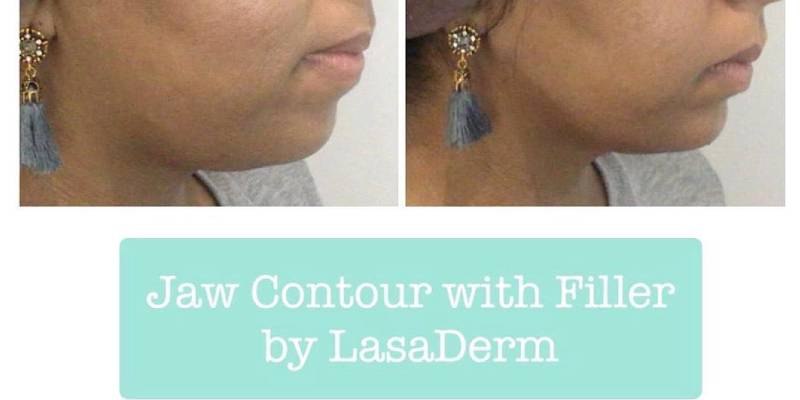 Although the treatments mentioned above relate to specific areas of the face, did you know that these can be combined for a complete appearance overhaul? Also known as a liquid face lift, dermal fillers can be injected into eight points on the face to offer a gentle lift to all facial features. It boasts an effective, non-surgical alternative to a traditional face lift, able to be completed in as little as half an hour with minimal side effects. Your aesthetician will begin with injecting filler to the cheek area, before moving onto the under eyes, folds around the nose, mouth and jawline. Together, this successfully restores the natural contours of your face, focusing precisely on areas that you particularly dislike, for a fresher and more youthful look.
Unlike a surgical facelift, the liquid alternative comes alongside just slight discomfort, and the only side effects will be redness and swelling. If you were to go under the knife, on the other hand, you are looking at around four weeks of recovery with a total of six months to notice the full effect. With a liquid face lift, you will see an instant difference and results will last up to 18 months. Although not a permanent solution, it is far safer and more convenient.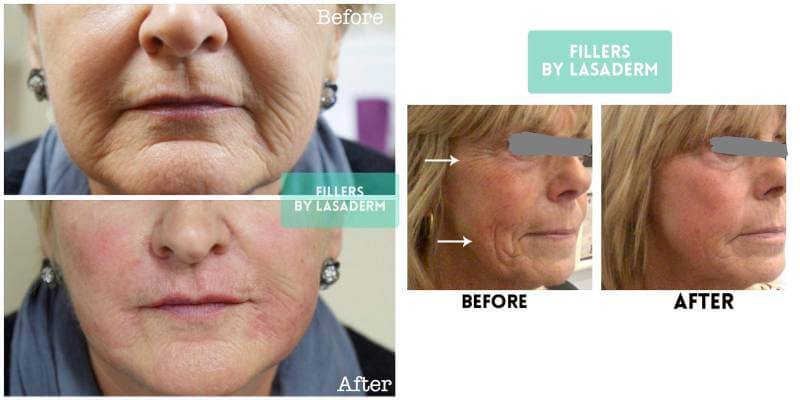 The Possibilities Are Endless!
If we have learnt anything throughout this article, it is that dermal fillers couldn't be more versatile, which means that they can offer a fantastic solution to all manner of beauty woes. They not only provide the perfect alternative to almost every cosmetic surgery procedure, but they also provide complete precision, meaning that you can target any areas that are particularly impacting your confidence.
If you are interested in botox in Milton Keynes or fillers in Northampton or any of the local surrounding areas, then feel free to get in touch with LasaDerm. With many years of experience and a team of reputable doctors, you couldn't be in safer hands. Every aesthetic journey begins with a one-to-one consultation, which gives you the chance to discuss your requirement and desired results, ensuring that you leave our clinic looking and feeling fabulous!