Coming to terms with the physical effects of ageing can be stressful for many. There is often a fast-paced change in appearance, which can be tricky to prevent or slow down. However, with continuous innovation and new technology being introduced to the cosmetic and beauty industry, several anti-ageing treatments are now available. In fact, you may be overwhelmed by your options. Thankfully, our handy guide is here to help inform you and identify the best anti-ageing treatment for you.
What Is The Best Anti-Ageing Treatment For Skin?
Many people wish for a dramatic change in appearance, and others would prefer to take a more subtle approach. Whether you opt for a surgical solution to slow down the ageing process or would feel more comfortable taking a non-surgical route, there are many different options to suit all.
The team of doctors at our cosmetic clinic in Milton Keynes are fully qualified, highly experienced and passionate about non-surgical cosmetic treatments. Why not book a free consultation to discuss your treatment options?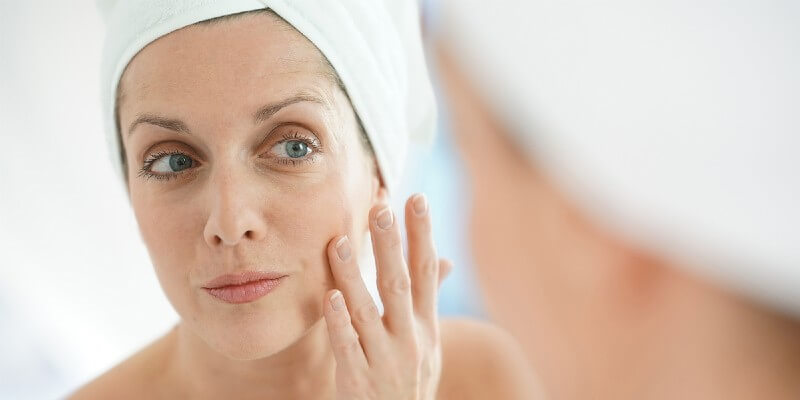 Whether you decide to undergo an anti-ageing cosmetic procedure or not, there are many day-to-day skincare tips you can follow to help reduce signs of ageing.
Sun exposure can dramatically speed up the signs of ageing, such as the appearance of wrinkles and pigmentation. You should always remember to apply sunscreen to your face before setting off for the day, even during the winter months. The sunscreen you choose should be broad-spectrum for maximum protection from UV rays and non-comedogenic to avoid breakouts. We love REN Clean Screen Mineral Sunscreen, which can safely be worn every day. You could also opt for a tinted moisturiser with added SPF to save time in the morning.
Not only does the sun age your skin, but so does dehydration. Drinking enough water a day can benefit the body in a long list of ways health-wise, but a point many people often miss is that dehydrated, damaged skin creates wrinkles. The more dehydrated the skin is, the more dull and tired it will look, therefore making you look older. Wrinkles are caused by damaged skin cells, and continuous dehydration is one of the main causes of this. If your skin is particularly dry, we recommend using a daily moisturising cream and a hydrating face mask once a week.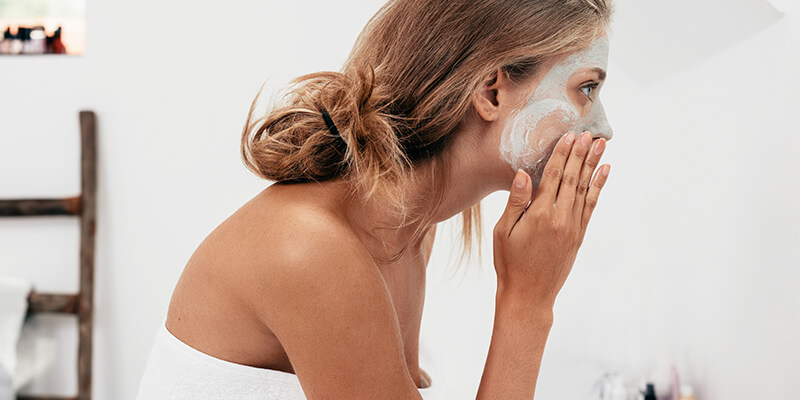 Botox® is the brand name for a natural purified protein that, when injected, causes muscles in the face to relax, resulting in the elimination of wrinkles and a smooth appearance.
Areas in which Botox® injections are commonly used include the forehead, eyebrows and around the eyes, which are all prone to wrinkles. The injections may be used to smoothen crow's feet, frown lines and brow furrows, sculpt and lift the eyebrows, reduce lip lines or even treat excessive sweating. To find out more about receiving Botox in Milton Keynes, you can get in contact with our team.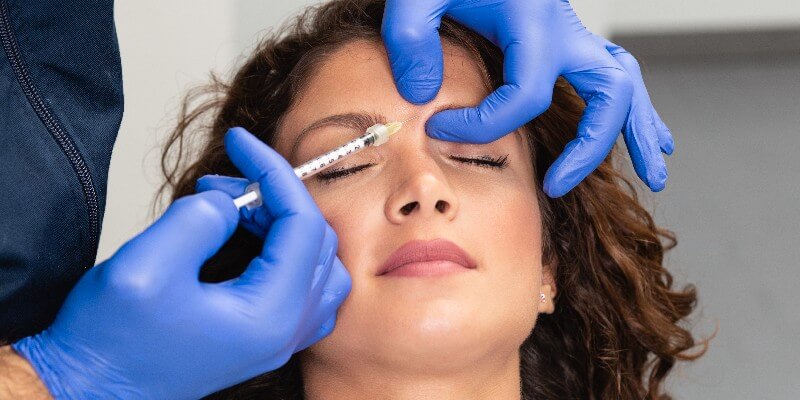 The process of getting dermal fillers is sometimes called a liquid facelift. Along with the term, 'facelift' comes an automatic assumption of intense surgery involving the cutting and rearranging of the face. However, a liquid facelift is a non-surgical alternative to a traditional facelift, involving a series of dermal filler injections to restore facial fullness.
Over time, the face starts to lose volume, making you look tired even when you may not feel remotely sleepy. There are seven key areas that show the first signs of ageing in the face; these are the following:
Jowls
Jawline
Cheeks
Tear Troughs
Corners of the Mouth
Nasolabial Folds – the crease of the nostrils
Cheekbones
During a liquid facelift, dermal filler can be placed in the areas which you are unhappy with. Your practitioner will inject the filler into your chosen areas, or for full results, all seven areas listed. This would result in a more gentle, subtle lift, restoring your skin's original structure. There is no downtime after a liquid facelift, though you may experience slight redness and swelling. The results can last for up to a year and a half before a top-up is required. If you would like to know more, feel free to get in touch with our team about our fillers in Milton Keynes.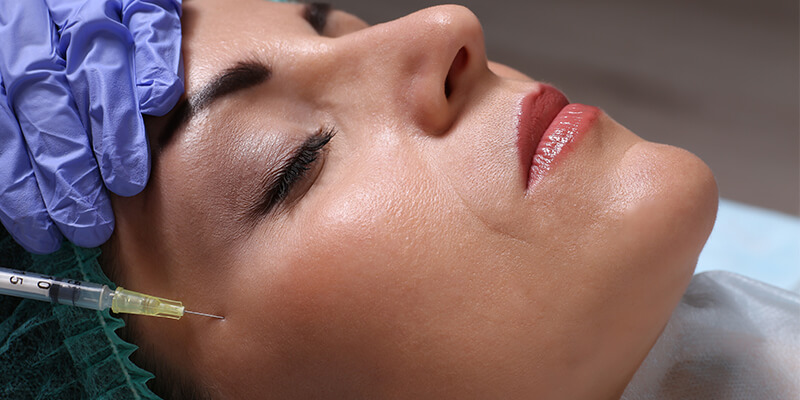 A thread facelift is a non-surgical procedure that involves the insertion of dissolvable PDO threads into the skin, which lifts and anchors soft facial tissues, restoring the natural facial features of your youth. The effects of a thread lift procedure are immediate and can last for as long as three years, after which the threads will have fully dissolved.
A thread facelift is suitable for patients desiring a more youthful look without having to undergo major surgery or putting up with visible scarring. Our fully trained medical professionals carry out this procedure with incredible, long-lasting results at our cosmetic clinic. To find out more about undergoing a thread facelift in Milton Keynes, feel free to get in touch with our team.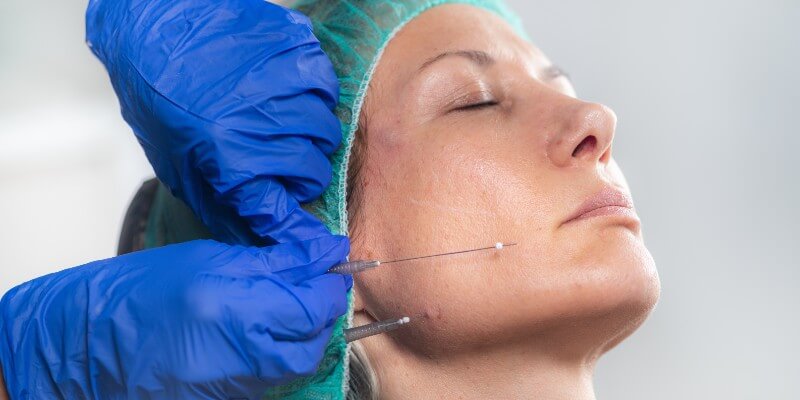 Our Dermapen® microneedling treatment is an effective anti-ageing solution that takes advantage of the skin's natural ability to regenerate and repair itself. A Dermapen® is a clever, pen-shaped machine containing 16 medical needles at its tip. The needles are used to puncture the skin, creating micro-wounds in the dermis and epidermis and activating the body's natural healing process.
As the body works to repair the punctured skin, the appearance of wrinkles, fine lines, scarring and pigmentation is reduced, resulting in smoother, healthier-looking skin and a youthful appearance. Our Dermapen® microneedling treatment is incredibly safe and effective on all skin types and many problem areas.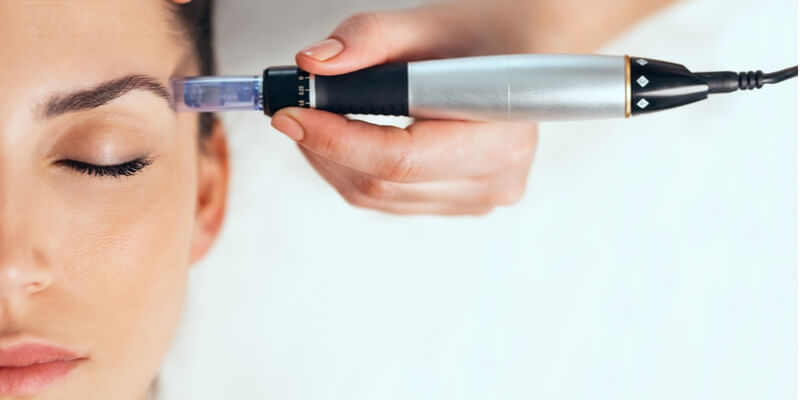 Microdermabrasion is a less intense procedure and is best described as similar to a highly exfoliating facial. It is best suited to those who are seeking a light, more enjoyable treatment rather than cosmetic procedures.
During a microdermabrasion treatment, a specialist exfoliating machine will be used to remove all dead skin cells from your face, taking away the top layer. Circular movements are used, which helps the blood to pump around your face more, which increases collagen production. Collagen is a tissue found in the skin that helps keep it plump; however, with age, the face loses collagen and elasticity – microdermabrasion allows this to be restored.
By stimulating the skin's blood flow and collagen production, over time, dermabrasion will help to smooth out wrinkles and rejuvenate the skin.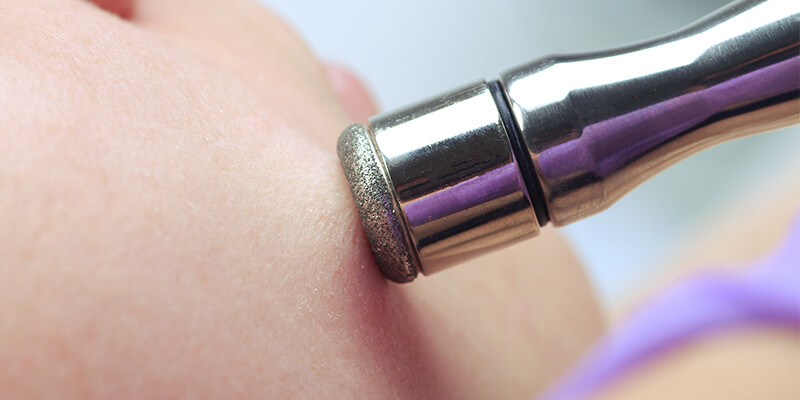 PlexR® plasma technology is known as 'soft-surgery' but involves no cutting of the skin. It instead uses pulses of plasma energy to tighten the skin. PlexR® is usually used to reduce the appearance of what is known as 'smoker's lines', which are lines around the mouth, as well as baggy eyelids. Both of these are key aspects that can dramatically age the face.
PlexR® technology removes all traces of baggy skin, folds or deep lines without actually removing any skin at all. Due to the complexity of the new, advanced technology used for this treatment, only specific areas are treated. The procedure will pinpoint only the required individual lines or baggy regions of skin without damaging any deep layers of tissue. It only takes around 30 minutes, and the results can last for up to ten years.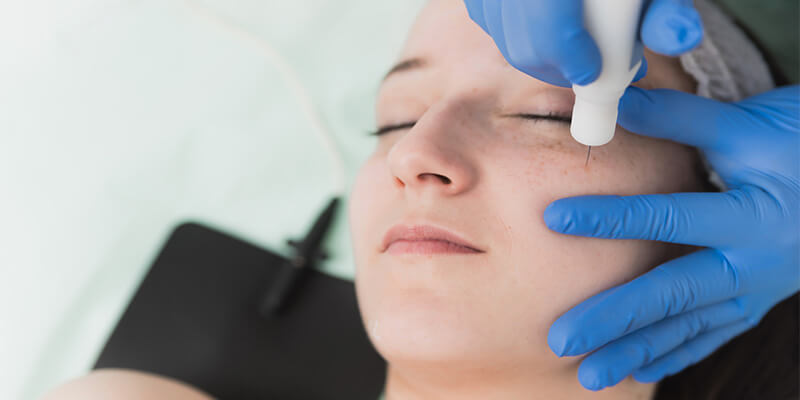 Our HydraFacial treatment is an excellent remedy to several common skin complaints, including hyperpigmentation, dryness, wrinkles, congestion and looseness. It detoxes, exfoliates and hydrates the skin, rejuvenating it and leaving you with a healthy glow. This award-winning treatment involves three steps and can be customised to suit your skin requirements and desires.
The treatment begins with the cleansing and gentle exfoliation of the face, removing dead skin and exposing a healthy layer. Next, any build-up that may be present in pores is extracted and the skin is hydrated. Finally, antioxidants and peptides will be used to nourish and protect the skin, leaving the face with a radiant glow.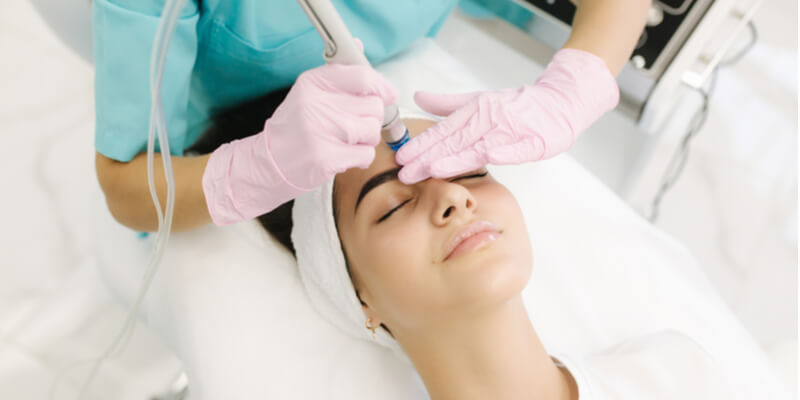 Our Profhilo treatment is ideal for those looking for longer-term anti-ageing effects. In this procedure, a stabilised product containing hyaluronic acid is injected under the skin by our highly trained practitioners to hydrate, lift and tighten skin, and produce a rejuvinated appearance.
The injected product stimulates skin cell receptors, activating processes in the body which result in tightened and youthful-looking skin. The hyaluronic acid also helps your skin to retain moisture, reducing dryness and increasing skin elasticity. Ou Profhilo treatment is typically administered over two sessions four weeks apart and should produce results that are visible after the first session and last between six and twelve months.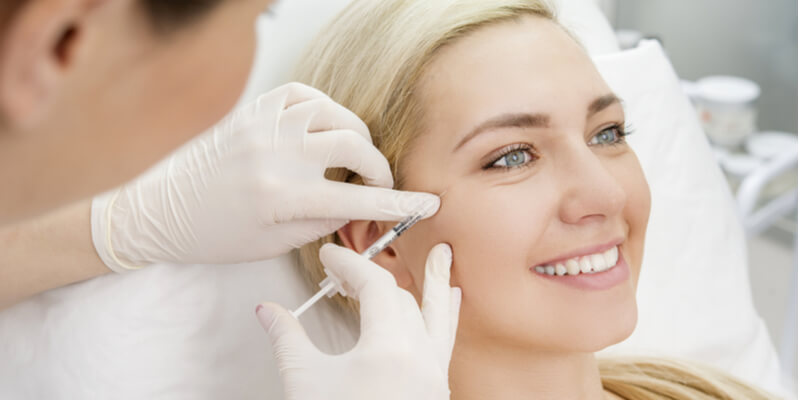 Our Viscoderm treatment involves injections of an ultrapure hyaluronic acid product into the skin of the face. This incredible treatment resculpts the tissue of the face, smoothing wrinkles and deeply hydrates the skin, increasing its elasticity and resulting in a more youthful appearance.
Our Viscoderm and Profhilo treatments differ in that the former is typically used to smoothen specific wrinkles and creases in the skin, while the latter is administered more generally to the face and neck.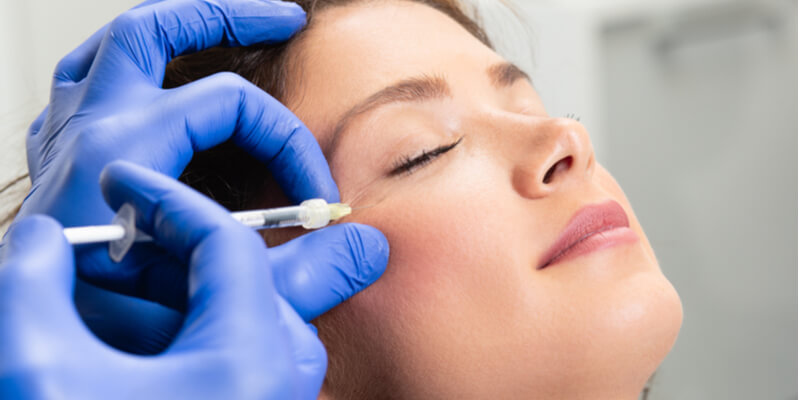 How To Reduce Ageing Of Skin
Signs of ageing do not have to be a concern; if they are having an impact on your self-esteem, the anti-ageing treatments discussed in this article are effective and could help you restore your confidence. Gone are the days when booking in for facelift surgery and going under the knife was the only option! We are now spoilt for choice when it comes to non-surgical procedures with incredible results.
However, before you book in for any specialist treatments, we highly recommend that you always have a consultation with a fully qualified practitioner. You can book a free consultation with one of our specialists to discuss your treatment options and identify the best anti-ageing treatment for you.