Although incredibly normal and usually painless, moles can cause a lack of confidence for many. Larger moles can also become caught or rub on clothing, making them a nuisance, particularly if they start to bleed.
Luckily, there are many safe, effective ways to remove moles and lesions, many of which leave zero scarring. Our guide on how to remove moles will run through the various options, along with healing times and aftercare.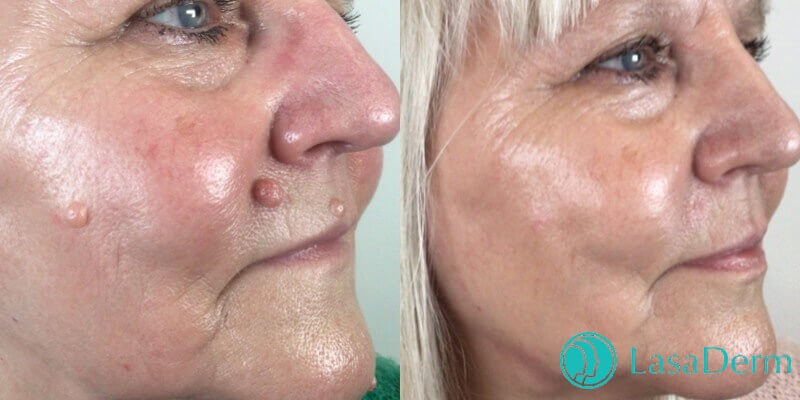 Our Guide On How To Remove Moles
The reputable team at our cosmetic clinic in Milton Keynes are always happy to help with any mole removal questions you may have and would happily book a consultation to discuss your situation in more detail. As a medical-led clinic, our doctors have extensive experience removing moles, cysts and skin tags through both surgical and non-surgical methods. We offer exceptional results with every treatment – why not take a look at our past client success stories for just a few examples?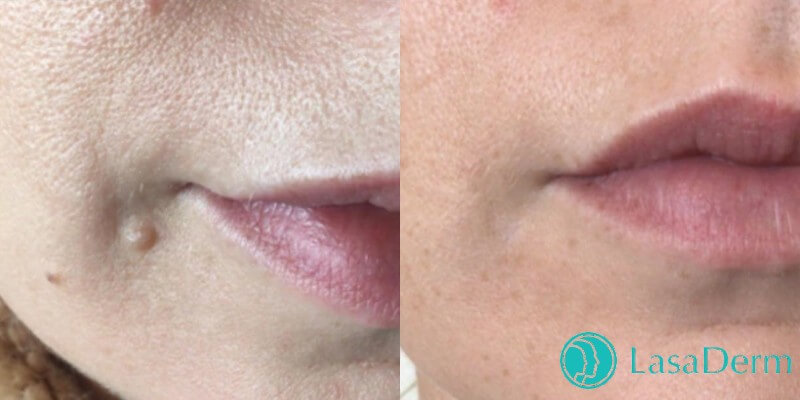 Yes, moles can be quickly and safely removed, helping to decrease any irritation and boost your confidence.
Before removing any moles, they must first be assessed to determine their type and whether they are benign (non-cancerous). At LasaDerm, all mole removal consultations and procedures are carried out by our in-house registered doctors. They will assess the colour and size of the mole/s and if they are raised.
If your LasaDerm doctor suspects that the mole may be malignant (cancerous), you will be informed immediately and advised to have it seen to by a dermatologist. Should a mole come back as malignant or suspicious, it will be removed and closely examined under the NHS (or your private healthcare provider if you choose this route).
At LasaDerm, we remove benign moles meaning our doctors will only pursue with your treatment plan if they are confident that the mole is safe. From here, your dedicated doctor will recommend which removal method best suits your circumstances and what you can expect, so you can make an informed decision on whether you want to go ahead.
The whole process and procedure are guaranteed to be safe, comfortable and easy, delivering the best mole and cyst removal in Milton Keynes.
Take a look at our previous article for more information about the types of moles and the signs of a malignant lesion.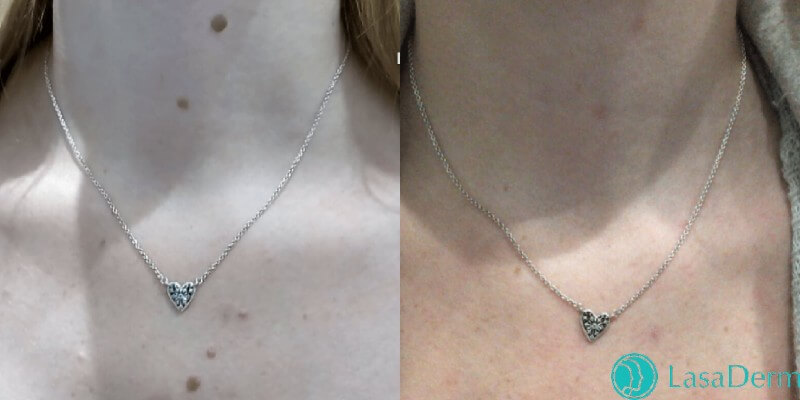 Before getting your mole removed, our qualified doctors will always run through the different options and which procedure they feel would provide you with the best results. All of our mole removal methods are quick, easy and pain is minimal; they include the following:
Electrocautery
This effective procedure uses heat from an electric current to eliminate the mole cells and will require a local anaesthetic. It usually lasts around 20-30 minutes and is more cost-effective than other treatments.
Following electrocautery, you can return to your day as soon as the procedure is over. Keep the area dry for the first day, and then you can start to clean around the area with water after a day or two.
PlexR
PlexR is one of the safest ways to remove moles and is a hugely popular treatment at our clinic. It requires no surgery, stitching or downtime, using a controlled micro-beam of plasma energy to vaporise the skin. The nature of our PlexR device means that moles can be precisely targeted without damaging the surrounding skin.
You may need a local anaesthetic before the treatment to minimise discomfort; however, the procedure usually lasts only around 15-30 minutes and leaves incredible results! After your session, the mole will scab over; this must be left to fall off naturally, typically within a week.
Surgical Excision
Although rarer nowadays, there are still instances whereby surgical excision will be the best removal method; this is carried out at our purpose-built minor operation suite.
Before beginning the procedure, a local anaesthetic will be injected to numb the treatment area. This may cause a slight stinging sensation that lasts for 5-10 seconds but will make the excision itself pain-free.
A small incision is then made, the mole cells are removed, and the incision is stitched closed. You can return to our clinic the following day for a review, and the stitches will be removed 5-10 days after, based on how quickly your wound heals.
This procedure costs £450, including consultation, excision of the cyst, removal of stitches and all reviews.
Nd:Yag Laser
Nd:Yag lasers emit a high-energy light wavelength, creating heat and destroying the mole cells. Due to the intensity of the lasers, you will need to wear eye protection throughout the session.
There may be a sensation of a pulse-like feeling in the affected area, so an anaesthetic may be applied to the mole, but it is not necessary. An ice pack could be used immediately after the procedure to help soothe the area. Try to be gentle and careful with the area in the days following the process, and avoid abrasive skin cleansers.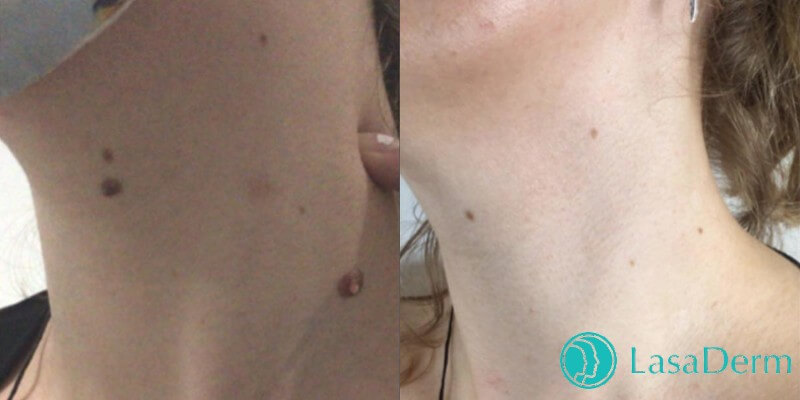 You are likely to find many home remedies on the internet promising to remove your mole, from using apple cider vinegar to applying iodine. However, these are never guaranteed and may cause more harm than good, particularly if you are unsure whether the mole is benign or malignant.
When considering removing a mole, our advice is always to start by seeking medical advice. This will ensure that your mole has been professionally assessed, and if you choose to have it removed, the process is safe and achieves effective results. At LasaDerm, we would always be more than happy to schedule a consultation with one of our experienced doctors, who will answer as many questions as you may have.
The price of mole removal differs based on the size of the lesions, the number of moles being removed and your chosen removal method. For example, at our skin clinic in Milton Keynes, you can expect to pay from £300 for PlexR removal but from £450 for surgical excision. Our treatment plans are created bespoke, so the best route is always to book a consultation to discuss your circumstances in more detail.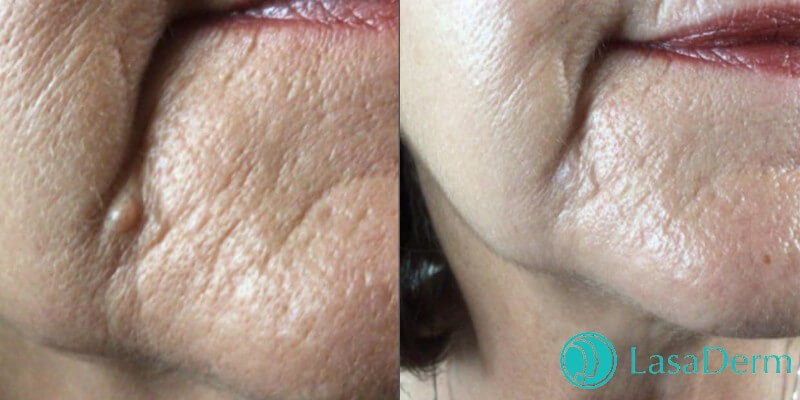 In most cases, an anaesthetic will be used to make your experience as comfortable as possible. Following your mole removal, the skin may be tender, particularly if you undergo minor surgery. However, your LasaDerm doctor will always provide full aftercare on how to care for your skin and minimise any discomfort.
In most cases, if a mole has been professionally treated, it will not grow back as the cells would have been removed altogether. However, there is always a slight possibility. If a mole grows back, this doesn't mean that it is cancerous; it just means that the cells have regrown.
It is important to note that, following mole removal, the treatment area is likely to be discoloured for a short period. Don't worry; this is not leftover cells, but instead, the skin naturally healing itself.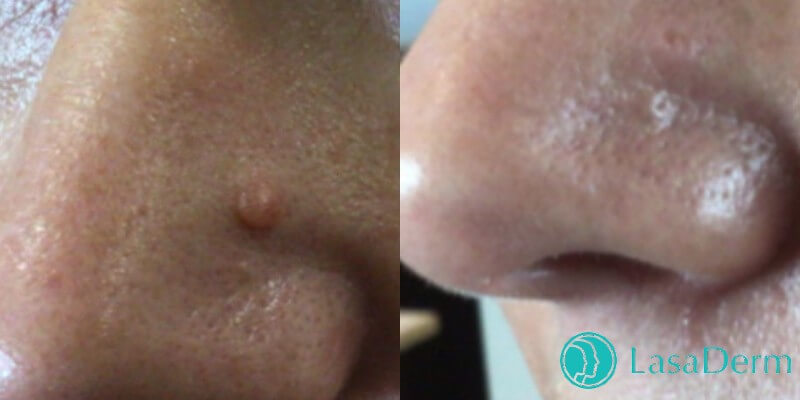 The procedure can last from 10 minutes to an hour, depending on the size and complexity of your mole. Most clients usually only have one session with us; however, in some instances, it may be necessary for more. Our tailored consultations with our experts in all lesion removals will help us decide whether you need this for your mole removal.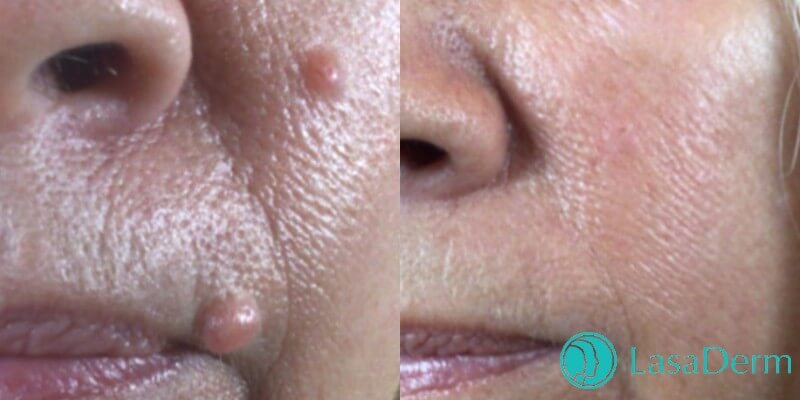 Most treated moles take around a month to heal; however, this may differ depending on the size and depth of the lesions. We will always schedule a follow-up session to review the mole.
Mole removal typically leaves a few minor but expected side effects, such as tenderness and stinging, but this will only last a couple of days. The skin will also likely be discoloured, particularly after any scabbing has fallen off, but will return to normal within a few weeks.
For the first few days after your removal session, you may be asked to keep the area covered with a bandage. Once this is removed, the skin needs to be kept clean, and a fragrance-free moisturiser can be applied.
Once the mole has been removed, the skin underneath will be new, meaning extra care will be necessary. We recommend limiting direct sun exposure and, if impossible, wearing SPF50.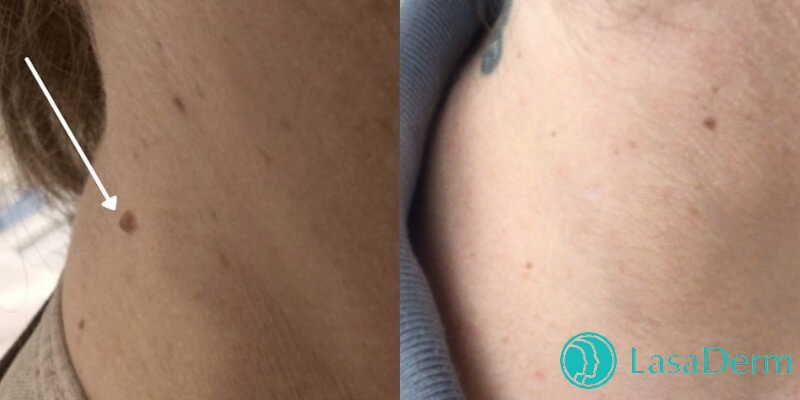 Contact Us To Book A Consultation
After this guide, you may look at the mole on your skin that has been bugging you for who knows how long! Our specialists at our cosmetic clinic in Milton Keynes are always happy and willing to help you achieve your desired look by getting rid of those pesky lesions and allowing your skin to feel smooth and look flawless! Contact us for more information or to book a consultation now!