Client Brief
Kelsey was a full time working mum of 3 children who came to the LasaDerm Clinic in the hope of looking and feeling like herself again after retaining her mummy tummy. Her body had bounced back after her first two children but had not done as well after the arrival of child number three. Kelsey was already eating healthy weeks before coming into the clinic and was fairly active; running after her 3 children and working late shifts.
She had a holiday planned and wanted to desperately feel confident about her body and the way she looked.
Consultation Overview
During the consultation, Kelsey concerns were that she was unable to get rid of the pouch and dimpled cellulite type of loose skin that post-pregnancy had left.
She had considered having surgical liposuction and having discussed it with her husband, felt that due to the risks, long recovery afterwards and the affordability, this was not a viable option for her.
At LasaDerm we formulated a specific plan for her that consisted of 8 sessions of 3D Lipomed. We combined Cavitation to break down the fat cells and Cryolipolysis, also known as fat freezing, to boost the whole treatment. Combining both treatments ensures enhanced results. We also included Radio Frequency for 15 minutes each session to tighten and smooth the skin.
Kelsey's sessions were planned in time for her holiday with her husband. She was eager to feel confident again in a, and we were determined to give her that confidence back.
In Kelsey's 3D Lipo plan, 6 sessions of Cavitation and Radio Frequency combined and 2 sessions of Cryolipolysis were recommended – 1 session a week for 8 weeks combining the effects of Cavitation, Cryolipolysis and Radio Frequency. The entire procedure is non-invasive, with no pain, no downtime and no side effects.
Treatment Overview
3D Lipomed is a 3 pronged approach to fat loss and body contouring.
The 3D Lipomed is a brand new version offering an updated and improved technology of the popular 3D Lipo machine and is available only to doctor led clinics such as LasaDerm. It encompasses Cavitation, Cryolipolysis and Radiofrequency.
Cavitation utilizes low-frequency ultrasound to penetrate to the fat tissues deposited beneath the dermis layer while Cryolipolysis uses low temperatures to freeze the fat cells and destroying them permanently without harming the surrounding tissue.
The two treatments, while different in their approach to eliminating fat, work well in tandem. The difference is Cavitation results are visible right after each session, and Cryolipolysis results will take a few weeks to kick in but carry on doing their job up to 3 months afterwards.
Losing weight quickly can leave you with crepey, saggy or wrinkled skin, and the radio frequency aids in promoting the production of collagen, hence tightening the skin to give a smoother, less wrinkled and crepey appearance.
Before and After Photos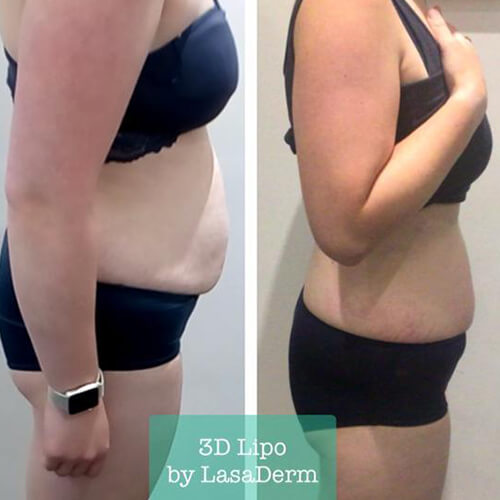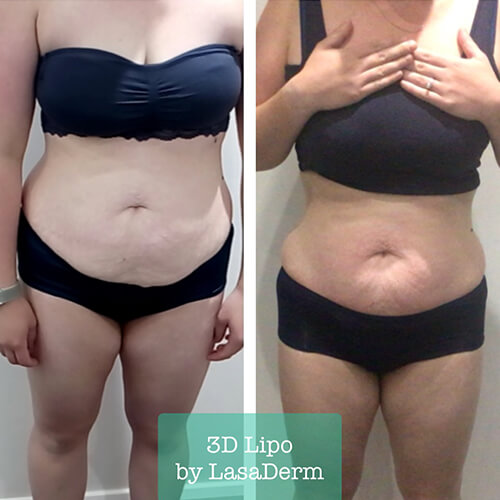 Customer Feedback
I was really quite unhappy with the way I looked after my third child. Having discussed the options, my husband and I were both apprehensive about surgical liposuction due to the risk of the general anaesthetic, the recovery time required as I had to still look after the kids and, of course, the cost. So I was delighted when I heard about 3D Lipo at LasaDerm, and although I wasn't sure exactly what to expect when I began the treatment, I can honestly say that both my husband and I are amazed at the results. The staff are really professional and friendly and make you feel comfortable and at ease and their encouragement throughout the whole process is great. I wouldn't hesitate to recommend this treatment at LasaDerm at all.