Society is becoming more receptive to Botox, fillers and non-surgical cosmetic procedures; all of which are becoming the norm within the beauty realm. The celebrity world continues to reap the benefits of aesthetic beauty treatments to fix wrinkles, gain bigger lips and tighten the face for a youthful, rejuvenated look.
While procedures completed by trained professionals are entirely safe, the trend has been known for causing dangers to those who opt for the cheap, bargain treatment route. Many of which end in botched results.
In a recent BBC documentary called 'Fake Britain', we discovered the fatal story of Marcel King, who was injected with fake Botox by a professional poser named Ozan Melin. In an article, Mrs King states that the treatment has now left her with life-changing injuries which can't be reversed. As Celebrities have made Botox a high in demand treatment, it's also come with a large volume of unqualified individuals cashing in on the craze.
Check out the video below.

Video Credit: Daily Mail
The Dangers Of Botched Botox
The Fake Britain documentary currently on BBC iPlayer, shed light on the fact that you don't necessarily need to have any qualifications to administer Botox or Dermal Fillers. As a result, since there are no regulations, this causes concerns as it allows unscrupulous people to pretend they know how to administer Botox safely. You will find plenty of places that buy cheap products from other countries such as China to gain a profit and use fake advertisements to gain traction.
However, it can also be down to the naivety of some people who do not do the necessary research before parting with their money and undergoing Botox treatments. We are living in an ever-increasing false economy. Would you ever have a tooth extracted or even have a filling in someone's home by anyone other than a qualified dentist? Or even consider a mobile dentist coming to your home to check both you and your friend's teeth at the same time, in the hope of saving a bit of money. The answer will always be a categoric NO. So why do so many individuals like Marcel King put themselves at risk when it comes to Botox or Dermal Filler? Perhaps it's because they don't ever really think through the consequences. Certainly, in the case of Marcel, she has extensive nerve damage, which can never be reversed and will have a devastating effect on the rest of her life.
While prices from big conglomerates can be a little extortionate due to large overheads and greed for high-profit margins, do your research and ensure you find reputable clinics. More often than not, these clinics will come alongside very competitive prices. Trust your gut instinct once you get there. If it doesn't feel right, don't do it and leave.
Mrs King's Botox Story
In 2013 Marcel King wanted to "knock a few years off" her face so thought Botox injections was the perfect way in achieving that. Speaking on the show, she mentioned she found an advert on Facebook with a mobile number on. Marcel ended up ringing them up right there and then to book an appointment. After arriving at the address which was a private home, she was injected by a thick looking needle that resembled a "dog vaccination needle" and described the whole procedure as excruciatingly painful. She paid £300 for the first batch and after not seeing any results within 2 days, booked for a top-up 2 weeks after for £100. This time she mentioned "it felt like the end of cigarette butts burning my face" and it started to swell and become very red.
Mrs King then ended in the hospital coming "close to death". Unfortunately, after the ordeal, she now has permanent muscle damage to her face. Ozan Melin was charged with Grievously Bodily Harm and charged with 2 years in prison. Watch the full video below.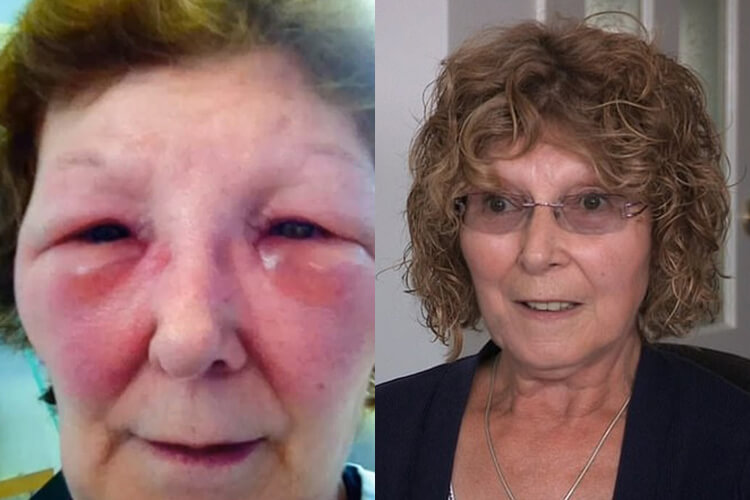 Photo Credit: Daily Mail
Botox – The Safe Way!
The growth and demand for Botox doesn't look like its slowing down any time soon. Therefore it is essential to check that the practitioner you are going to see is a licensed medical professional. Look for a qualified Doctor at a reputable clinic. At LasaDerm, we are dedicated to providing our clients with the utmost professionalism and highest of standards. We only use FDA approved branded products administered by Doctors who are GMC registered and fully trained.
Whereas Mrs King paid around £400 for someone posing as a Doctor applying 'Chotox' (Chinese Botox), at LasaDerm 1 area of Botox is £130, 2 areas is £200 and for 3 it's £270. With a top-up between 10-14 days, which is included within the price. We are able to do it at such an affordable price because of the quantity of Botox we administer, low overheads and a slightly smaller profit margin making it extremely cost-effective. Our procedures are carried out by highly qualified and experienced doctors.
LasaDerm is registered with the Care Quality Commission (CQC). The CQC regulates all health and social care in England and ensures the safety and quality of the treatments.
Remember to do your research, ask to see before and after pictures, check the products they are using and it's always safer to go to clinics rather than beauty salons or home-based practitioners. Always be sure to ask questions and don't trust the first advert you see – Mrs King realised this too late. It's imperative to book a consultation first before undergoing any treatment and don't go ahead unless you feel 100% comfortable!
If you've been looking into getting Botox Injections, why not book in for a free no-obligation consultation with LasaDerm. Our doctors are happy to answer any questions or concerns you may have. With years of experience within the industry, at LasaDerm, you will find medical aesthetics at its best.