Permanent hair reduction with laser hair removal
Zahra had six sessions of laser hair removal with LasaDerm. She had been having threading for her facial hair since she was 16, but for some reason, in the last year, the threading was causing her to break out in spots. Now in her late twenties, the spots induced after the threading left her feeling even more self-conscious. While the hair bothered her, the spots were even more unpleasant. She had always had a keen interest in beauty and looked after herself, but the only thing that bothered her was the fine hairs on her upper lip and the side of her face. She tried bleaching them for a while to avoid the spots from the threading, but the blonde hairs against her brown complexion didn't look great, so she decided it was time to look for a more permanent option.
Zahra's Story
"When I first looked into laser hair removal, I researched lots of clinics that offered the procedure as I had heard a range of horrendous stories of people being burnt. The bigger clinics were extortionate in their prices and didn't necessarily have the right laser either, and the beauty salon type clinics didn't instil as much confidence as I would have liked.
Wherever I went the one thing that was explained was that dark Asian skin was always harder and more challenging to treat as there was a possibility that the laser wasn't suitable for my skin type. After months of researching, I looked into LasaDerm and found that they had lasers suitable for my skin type, and their staff were all appropriately trained and knowledgeable. I went to great lengths to make sure I had all the information I needed.
After six sessions, the difference was unbelievable. I couldn't believe my eyes. All my facial hair had completely disappeared, and I felt great. The laser had also worked on my spots and not exacerbating them with threading was definitely the right way to go.
The prices at LasaDerm are also really competitive, which is a great bonus and the staff go above and beyond to give you a great service. Since then, I have had my legs, underarms and bikini done too, and the results are amazing.
I advocate LasaDerm to all my friends and family who comment on how good my skin looks – fuzz and spot-free. I feel confident and am happier in myself again, and that feeling is priceless, and I guess shows in the way I come across to people."
Why Choose LasaDerm?
Providers of laser hair removal do not have to be regulated in the UK. In fact, laser hair removal can take place by people who may not have even had the appropriate training and can be undertaken from their homes or garages.
Laser machines, similar to other electrical equipment such as televisions and computers, for example, are all of different specification and quality. We pride ourselves on only using the highest quality laser equipment to guarantee successful results with minimal pain.
LasaDerm is a reputable clinic registered with CQC, which is the independent regulator for health services in England. Our therapists work in a clean, safe and appropriate environment, with the processes in place to deal with any complications.
You Deserve The Best Treatment At The Best Price
Our medical-grade lasers are different from less-effective devices used in salons. They effectively target the root to protect the surrounding skin. And can be fine-tuned by our experienced clinical therapists to treat your skin and hair type safely.
We keep our prices competitive to give you a choice to go somewhere reputable without compromising on safety or efficacy. Our prices are probably as competitive as home or beauty salons and far more than any provider with equitable lasers and trained staff.
If you are unsure of whether laser hair removal is right for you, why not book yourself in for a free consultation with one of our experienced clinical therapists.
At LasaDerm, we want to be your clinic of choice in all things, and your journey with us starts with care. Why not give us a call on 01908 555595 to book a FREE no obligation consultation with our fully qualified and experienced doctor
Before And After Photos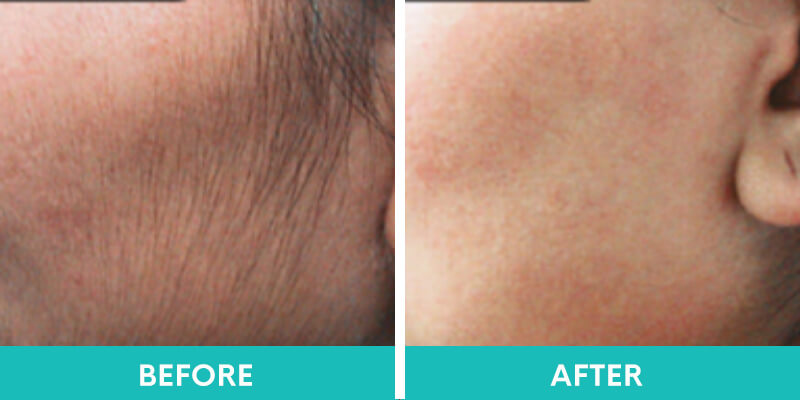 Find Out More About Laser Hair Removal with Lumenis