Below are many examples, along with images, of skin lesions that are often mistaken for moles.
Haemangiomas and Campbell Morgan Spots
Often referred to as "blood filled spots or moles", haemangiomas are not moles. They are an abnormal (non-cancerous) build-up of blood vessels on or under the surface of the skin. A haemangioma of the skin may look like a red wine – or strawberry coloured birthmark and may protrude from the skin. Haemangiomas of the skin appear most frequently on the face, neck, and behind the ears.
Growths in the outermost layers of skin are capillary haemangiomas. Those deeper in the skin are cavernous haemangiomas. Capillary haemangiomas can be left untreated, but cavernous growths should receive treatment if they interfere with eyesight or breathing. Haemangiomas of the skin generally develop during infancy.
Haemangiomas often look painful, but rarely cause any discomfort at all. While they initially may grow rapidly, they then settle and occasionally shrink and go away on their own without treatment. They are non-cancerous, and complications are rare. Capillary haemangiomas are easily treated with specialised lasers. The treatment can usually be done in one or two sessions leaving no scar at all.
Campbell de Morgan spots (also called cherry haemangiomas) are common, benign skin lesions of middle to older age, formed by proliferating, dilated capillaries and postcapillary venules. They are not painful, non-cancerous and complications are rare. They can be seen in any part of the body but are most common in the trunk and upper extremities. They can be treated very successfully with specialised lasers over one or two sessions leaving no scar.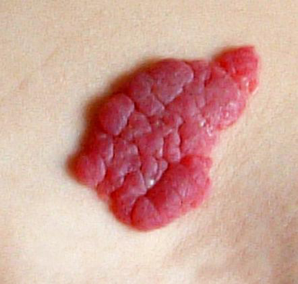 Capillary Haemangioma

Cherry Haemangioma – Before and After Laser Treatment
Skin Tags
A skin tag is a small flap of tissue that hangs off the skin by a connecting stalk. Skin tags are benign and not dangerous and do not become cancerous. Commonly they are seen on the neck, chest, back, armpits, under the breasts, or in the groin area. Skin tags can affect both men and women but often appear in women following sudden weight gain. They are more common as people age. Lesions can be individual or multiple. Skin tags usually don't cause any pain. However, they can become irritated if anything, such as clothing, jewellery, or skin rubs against them. They are often felt to be unsightly and can affect women's ability to wear dresses showing their neckline or armpits. In men, skin tags around the face can get caught and bleed heavily while shaving. Most skin tags are small measuring just a few millimetres, but giant lesions upwards of 2-3 cm are not uncommon.
The NHS does not generally treat skin tags as they are seen as being harmless. However, if you wish them to be removed, they can easily be removed by cutting them off with a scalpel, with cryosurgery (freezing it off), or with electrosurgery (burning it off with an electric current). While new lesions cannot be stopped, recurrence, bleeding and infection of treated lesions can be minimised by having skin tag removal done professionally.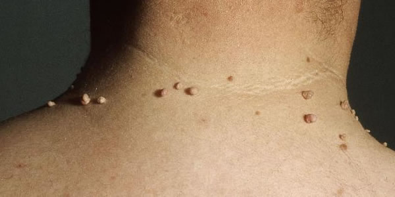 Skin Tags on Neck

Before and After Skin Tags on Armpit
Seborrheic Keratosis
Seborrheic keratoses are brown or black growths usually found on the chest and back, as well as on the head. They originate from cells called keratinocytes. As they develop, seborrheic keratoses take on a warty appearance. They do not normally lead to skin cancer.
The cause of seborrheic keratoses is unknown. They are seen more often as people get older but can affect people any age. Lesions can be singular or often rise in number over time. In severe cases, people can have hundreds of lesions, especially on the trunk.
The main issues aside from the cosmetic appearance is that they can be itchy and irritate the skin. Occasionally the tops can appear to fall out, and they can then bleed. Seborrheic keratoses are occasionally confused with warts (see below). Non-pigmented lesions are often referred to as Solar Keratosis and often affect scalps of bald men
The NHS does not generally treat Seborrheic Keratosis or Solar Keratosis. They can be left alone and observed over time. However, they can be removed very easily with having them shaven off with a scalpel or frozen off (cryotherapy), generally without leaving a scar.
Take a look at our Seborrheic Wart removal case study on a previous client at LasaDerm.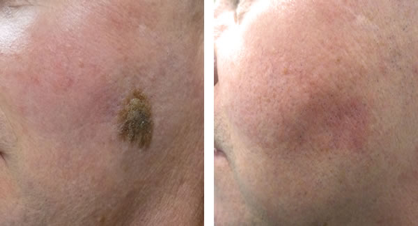 Seborrheic Keratosis Before and After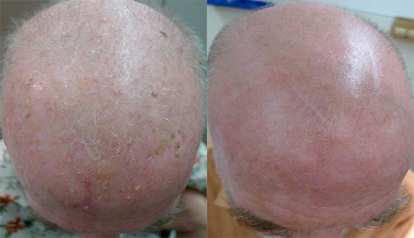 Solar Keratosis Before and After
Lipomas
Lipomas are discussed in medical literature from as early as 1709. They are a "benign tumour" made up of fat tissue. They are usually soft to touch, moveable and totally painless. Occasionally if they are in an awkward area, they can be irritated by movement of clothes (such as a belt over a lipoma on the stomach). In general, they are just under the skin, though deeper lesions are possible. Most lipomas are small and measure less than 2 inches, though lesions as big as 1ft diameter have been recorded. Lipomas can be solitary or occasionally as a group. The most common places for lipomas are upper back, shoulder and trunk, though they can arise anywhere, there is fat tissue.
The exact cause is unknown, but there are some known risk factors including obesity, a sedentary lifestyle and family history. They are usually diagnosed on a physical examination by your doctor. Occasionally larger or deeper lesions may need to be confirmed by an ultrasound. They are most frequently seen in men and often appear after the age of 40 years.
Lipomas are not cancerous and don't usually turn into any form of cancer. Their natural history is to gradually increase in size. The NHS does not generally treat lipomas. However, either for cosmetic reasons or when lesions irritate people due to their position, they can be easily removed under local anaesthetic. Carried out professionally the procedure is usually quick and recovery time short without the need for any downtime.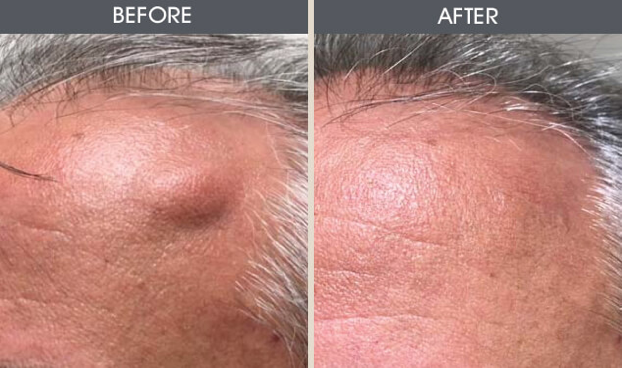 Skin Cyst (including sebaceous and pilar cysts)
Skin cysts are commonly found just under the skin and usually fluid filled. They are usually harmless and may occasionally disappear without treatment. Cysts are often confused with boils or skin abscesses which are painful collections of pus, indicating infection and requiring treatment with antibiotics and occasionally surgical drainage. Aside from their unsightly appearance skin cysts can become boils or abscesses over time and often this is the main reason for pre-emptive treatment.
Skin cysts are usually a raised, dome-shaped lump just under the skin. They can be any colour but are usually white or yellow with a central punctum (black hole) that you may be able to squeeze some pus out of it. The size can vary from a small pea size to 3-4 inches across. They often appear without notice and grow slowly over time. In general, they are asymptomatic but can be tender or become tender, sore and if they get infected can grow quickly and are acutely painful. They may also exude foul-smelling pus from the puncture which can be a sign of an infected cyst.
Sebaceous (epidermoid) cysts are the most common type and typically seen on the face, neck, chest, shoulders or skin around the genitals. They can affect males and females and appear at any age but are more common in young and middle-aged adults and are particularly common in people with acne. Cysts that form around hair follicles are known as pilar cysts. They're usually found on the scalp and can grow to become quite large. Pilar cysts are more often seen in women of middle age and do run in families. Though more common in females, treatment is often sought equally by men and women; men usually because they are unsightly or painful and women because it catches easily when brushing their hair. The pilar cysts can also affect the growth of hair above and around the cyst, which is another reason for seeking treatment.
These cysts usually form because some of the cells in the top layer called keratin, a protein that gives skin its strength and flexibility, don't move up as they would naturally and collect as a sac deeper than they would naturally. This then forms a thick yellow paste at the centre of the sac which can ooze out if the cyst bursts. Skin cysts are not contagious.
Cysts are usually harmless and can be left untreated. If a cyst gets inflamed, then a warm flannel placed against the skin can give some temporary relief. Don't be tempted to burst the cyst. If it's infected, you risk spreading the infection, and if the sac is left underneath the skin, it can grow back. It is best to get the cyst reviewed by a doctor and if it is unsightly symptomatic, such as catching on your clothes or there is a risk of it getting infected, then it is best excised. This is a simple procedure done under local anaesthetic when the skin is numbed, the cyst cut out and the skin stitched together.