Laser Hair Removal
Fed up of always having to shave or book in for waxing appointments? We have the perfect solution for you! Our laser hair removal in Leighton Buzzard uses only the highest standard of medical-grade lasers, allowing you to enjoy quicker and longer-lasting results.
Men
Before going ahead with laser hair removal, LasaDerm will always work with you to devise a tailored treatment plan to ensure that results are maximised. A vast range of areas can be treated based on your requirements, including the legs, underarms, chest and back.
See Treatment
Women
The nature of our lasers means that hair growth can be significantly reduced, allowing you to maintain silky smooth skin for a longer period of time. Moreover, as side effects are usually minor, you can continue your normal activity immediately after your treatment.
See Treatment
Face Treatments
Whether you are hoping to achieve a subtle glow or have an imperfection that is beginning to impact your confidence, LasaDerm is on hand to offer bespoke face treatments in Leighton Buzzard. As always, an initial consultation will be scheduled to discuss your needs before going ahead.
Thread Facelift
A super common procedure at our clinic is the thread facelift in Leighton Buzzard. Discrete, dissolvable threads are placed into the soft facial tissue to begin contouring the face for a youthful appearance.
See Treatment
Face Thread Veins
If you suffer from visible face thread veins in Leighton Buzzard, LasaDerm offer a reputable treatment which can minimise the appearance of veins through using advanced NdYag laser to target the blood vessels.
See Treatment
Facial For Redness
Rosacea is an incredibly common skin condition which impacts men and women, causing redness, flushing and papules; all of which can be significantly reduced through our facial for redness in Leighton Buzzard.
See Treatment
Fat Loss Treatment
Having spent years in the medical industry, our doctors are well-versed in how to pair treatments with the highest level of technology that can achieve maximum results. It is for this reason that we have invested in groundbreaking machines for our fat loss treatments in Leighton Buzzard; all of which are non-surgical.
Fat Melting
Using 3D liposuction equipment, our fat melting in Leighton Buzzard involves destroying the fat cells in the treatment area of your choice.
See Treatment
Fat Freezing
Our fat freezing in Leighton Buzzard, also known as Cryolipolysis, can be used to treat several problem areas such as the thighs, back and stomach.
See Treatment
Hair Loss Treatment
Experiencing hair loss or thinning can be incredibly distressing, eventually impacting confident and self-esteem. With this in mind, LasaDerm is proud to offer one of the leading non-surgical hair loss treatments in Leighton Buzzard, known as Platelet-Rich Plasma Therapy. PHP is taken from your body before being injected directly into the scalp to wake up the follicles and encourage growth. This is perfect for treating both men and women with the average treatment taking just one hour to complete.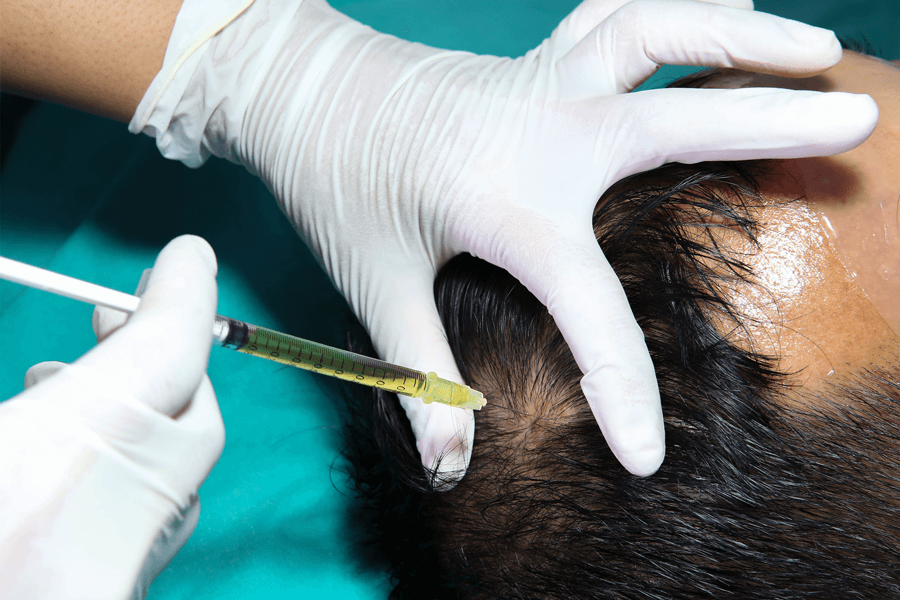 Mole Removal
The LasaDerm doctors have extensive experience in cyst removal in Leighton Buzzard; therefore, offer a variety of different treatment options. This includes both surgical routes and non-surgical alternatives.
See Treatment
Cyst Removal
Using the latest equipment and up-to-date industry practices, we offer reputable mole removal in Leighton Buzzard. You will be fully briefed on both what to expect during your appointment, as well as afterwards.
See Treatment
Why Choose LasaDerm?
With a team of highly qualified doctors on hand, LasaDerm is committed to offering onto the highest standard of care, experience and customer service. We encourage all clients to take full advantage of our free consultations as these allow you to get to know our team and begin determining the best treatment route to achieve your desired results.
Over 25 years of industry experience
Tailored treatment plans
Paired with the same doctors throughout
Warm and friendly environment
General Medical Council (GMC) registered doctors
Customer Testimonial
"I started to notice a couple of months ago with ageing my eyelids have become saggy and drooped over my eye. It has reduced my peripheral visions and made me self-conscious as I can no longer wear eye make up. After my procedure, the staff and doctors were excellent, making me feel so comfortable. I would like to say a massive thank-you to LasaDerm for giving me back the confidence I needed."
Deirdre Conrad
21st June 2021
–>