Book an Appointment with us Today!
About Our Platelet-rich Plasma
For centuries people have tried to combat hair loss by rubbing all manner of substances into their scalps, usually with little or no success. PRP therapy works on the principle that platelet-rich plasma contains the essential building blocks required for tissue regeneration and healing. PRP therapy is also thought to strengthen hair follicles and thicken existing hair, making it an effective hair loss treatment.
PRP therapy is used in hair restoration for natural looking results. Your own Platelet-Rich Plasma (PRP) is injected into the scalp. Then the growth factors in your blood cells do their job and hair growth is naturally stimulated. Our blood plasma (PRP) contains active growth factors which can promote hair growth, helping to restore your confidence. The end result is a fuller, healthier looking head of hair.
PRP Hair Restoration is suitable for both men and women.
PRP Hair Restoration is suitable for both men and women.
Before & After Pictures
Here at LasaDerm, we are happy to show our clients before and after images of our work. We understand before you undergo any procedure or treatment you want as much information as possible. We are consistently updating our clients before and after, so our potential clients have a better understanding of what happens during and after.
Our PRP treatment can help stimulate and grow your natural hair where you may have balding or thinning. The growth factors in your blood cells work great in helping to rejuvenate your scalp and hair follicles. If you would like more information on this treatment, please don't hesitate to get in touch with a member of our team.
Book Appointment
Hair Loss Before and After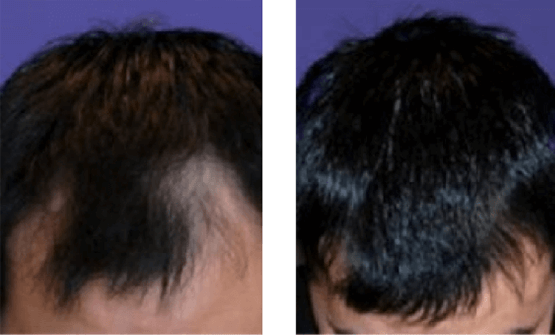 Hair Loss Treatment Before and After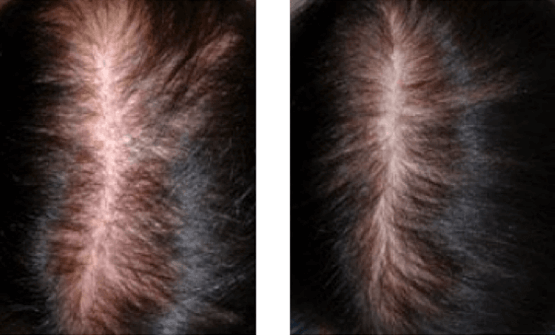 Our Prices
| Procedure | Price Package |
| --- | --- |
| Hair Loss Treatment | £1500 for 2 treatments additional treatments are £500 each |
Customer Testimonial
"I had my upper chest done as I didn't like that my hair would pop out over the top of my t shirt or that people commented on how hairy my chest was if more than my top button was undone. It isn't painless but its quick and the staff are fabulous. I would definitely recommend them – the prices are really reasonable – my cousin had his back done at another clinic and it cost him three times as much."