Laser Hair Removal
If you have noticed yourself going through hundreds of razors each year or find it tricky to schedule in monthly waxing appointment, then its time for a change. Our laser hair removal in Northampton boasts long-lasting results through impeding the growth of the hair follicles for good. Find out more about how we can help you below:
Men
Although in the past, laser hair removal was mainly used by women, it is now increasingly popular amongst male customers. The treatment can successfully reduce hair growth in an array of areas from the back and chest to the hairline and sideburns. This is a rapid yet highly effective option with minimal side effects.
See Treatment
Women
When booking laser hair removal with LasaDerm, you will be paired with the same professional throughout your sessions who will adjust the strength of the light to suit your skin tone. This means that you can enjoy maximised results without causing any damage to the skin surrounding your chosen treatment area.
See Treatment
Face Treatments
Here at LasaDerm, we recognise that while they may not be noticeable to others, skin imperfections can have an immense impact on an individuals confidence and self-esteem. It is for this reason that we have devised a range of face treatments in Northampton to help you to embrace your appearance through subtle enhancements.
Thread Facelift
As one of the most innovative ways to rejuvenate your appearance, our thread facelift in Northampton utilises dissolvable threads to reposition the facial tissue and contour features. This gives an instant lift which lasts for up to three years.
See Treatment
Face Thread Veins
Common on the cheeks and nose, face thread veins in Northampton can be removed at the LasaDerm clinic using an advanced NdYag laser system. This is used to pierce the skin and eventually cause the blood vessels to collapse and seal.
See Treatment
Facial For Redness
Our facial for redness in Northampton is designed to reduce common concerns regarding rosacea, including flushing and papules. A full skin analysis will always be carried out to ensure that your treatment plan can be tailored to you.
See Treatment
Fat Loss Treatment
Achieving your body goals takes a tremendous amount of hard work and dedication; however, there is often still stubborn pockets of fat which refuse to shift. If this ringing bells, then why not book a consultation with LasaDerm and find out more about our fat loss treatments in Northampton?
Fat Melting
Our fat melting in Northampton can be used to treat several areas of the body such as the waist, thighs, back and knees. It is one of the most revolutionary body fat treatments which destroys fat cells in targeted areas of concern.
See Treatment
Fat Freezing
Through using controlled freezing techniques, our fat freezing in Northampton eventually destroys fat cells in your chosen treatment area. The dead cells are then naturally passed through the body before being disposed of.
See Treatment
Hair Loss Treatment
Suffering from hair loss or thinning can begin to impact confidence; however, LasaDerm is on hand with a non-surgical hair loss treatment in Northampton. The innovative procedure uses PRP therapy to rejuvenate the scalp and promote hair growth naturally. To do this, blood plasma is taken from the client just like blood would be in a regular test at the doctor's, before it is meticulously prepared and injected back into the scalp. To maximise comfort throughout sessions, a local anaesthetic will always be used to numb the scalp so that injecting the PRP can remain painless.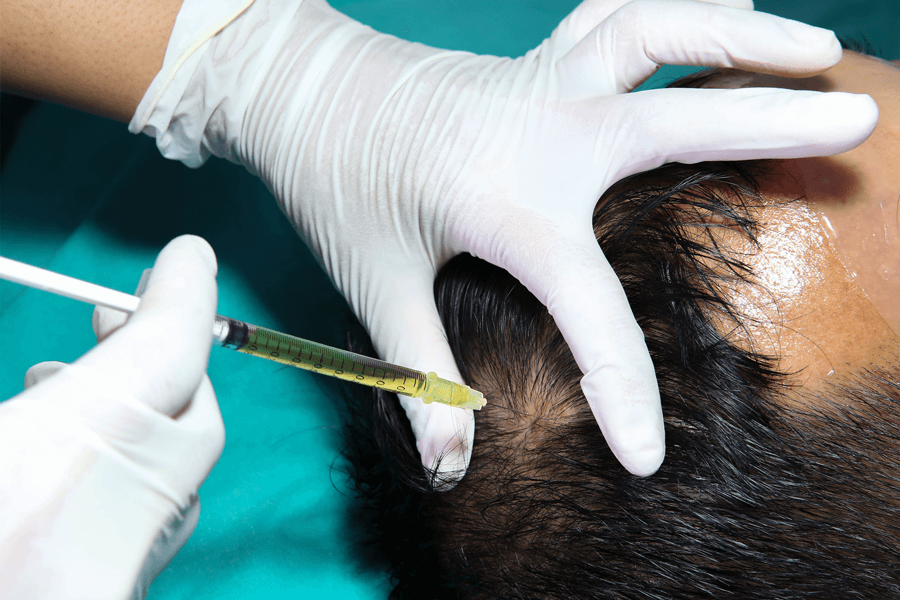 Mole Removal
LasaDerm specialises in a range of different treatments to perform mole removal in Northampton. This includes surgical excisions, as well as non-surgical alternatives such as Cryotherapy, Electrocautery and Ndyag Lasers.
See Treatment
Cyst Removal
With a team of General Medical Council (GMC) registered doctors, you couldn't be in safer hands when booking cyst removal in Northampton. An initial consultation will always be used to assess the cyst before determining the best route for removal, ensuring that there is no minimal scarring.
See Treatment
Why Choose LasaDerm?
LasaDerm, over the years, has become highly experienced with both upcoming and traditional surgical and non-surgical procedures. All of our doctors have had many years of experience in this field of work and have carried out thousands of successful procedures for a variety of clients. Our aim is to provide affordable procedures and treatments for those looking to bring back self-esteem and self-confidence without breaking the bank.
Post-Procedure Support
Highly Advanced Technology
Affordable Prices Without Compromising Quality
Professional, Qualified Doctors
Customer Testimonial
"Lasaderm are AMAZING!! I have had multiple treatments with them now, and I simply cannot fault them. Not only are the treatments legitimate, but it is so affordable compared to other clinics, and the staff are so helpful and friendly, I honestly would not go anywhere else."
Heidi Freeman
20th September 2021
–>