"Until you get your brows professionally shaped, it's difficult to truly understand how much it can transform your face"
But it isn't just the promise of saved time that's driving the trend: techniques, tools and even the inks used have all improved drastically. Although, it means people can throw away their palettes and pencils, the main reason popularity has risen is down to the skill set so many technicians now have – not to mention the amazing pigments. Results are now incredibly realistic.
The cosmetic-tattoo industry is evolving every month. The tattooing of yesteryear was a solid block of colour that would last well over 10 years, but we've now turned to 'topical' methods that allow for fading and for clients to alter the colour or shape every 12 to 18 months. This is because old ink contained titanium dioxide that the body broke down, leading to horrid tones of pink, green and blue. But all of that has gone now thanks to the new generation of organic pigments used by reputable and professionally trained technicians.
Semi-permanent makeups global success offers the chance to kiss lengthy make-up routines goodbye, so that you can literally get up and go.
People don't want to spend more than five to ten minutes applying make-up. If you want a flawless finish without the fuss, you might want to consider Semi-Permanent Make-Up. Perfect for those who want to save time off their beauty routine
Who Is The Ideal Candidate?
Anyone who wears make-up is a potential candidate for semi-permanent eyebrows or eyeliner. If you regularly pencil in your eyebrows or would like to give them a better shape or fill in gaps where they have been over plucked; if you want to enhance your eyes and want the effects of eyeliner without the running and under eye smudging; if you want to open up your eyes and raise your eyebrows without the need for a brow lift; if you are allergic to traditional cosmetics or if you
Treatment Overview
After an initial and detailed consultation on shape and colour, the LasaDerm practitioner will mark out the area being treated with a cosmetic pencil to act as a guideline. A topical anaesthetic will be applied to minimise discomfort during treatment.
You can choose from a soft powdered looking eyebrow, or maybe a natural hair stroke brow, a stronger power brow or even an ombre brow. We have an extensive range of colours to create the perfect pigment for your skin tone all of which can be mixed and matched to lighten or darkened to cool or warm the overall effect. The pigments are then placed under the skin using a very fine needle attached to a precision hand-held electrical device.
Your treatment may take anywhere between half an hour to an hour depending on the area(s) you are having treated. You will usually need to come in for a top-up treatment after 4 weeks to achieve the right result as the pigments may be absorbed and need topping up. This is all included in the price. The technician will also take photographs to use as a before and after comparison later.
Because the techniques used nowadays are more natural with individual hair strokes and require less pigment, your results may not last as long as in the past where more pigment for a block brow was used. How long your results last will vary depending on how quickly your body absorbs the pigment and how oily your skin is but results can last anywhere between 10-12 months to 2 years.
Yearly top-ups are useful in keeping the look fresh.
Why Choose LasaDerm?
Providers of semi-permanent make up don't have to be registered with the Care Quality Commission (CQC), which is the independent regulator for health services in England.
LasaDerm is a reputable clinic registered with CQC. Our semi-permanent technician works in a clean, safe and appropriate environment, with the processes in place to deal with any complications. Our practitioner is also trained by the Finishing Touches Group, and we use the state of the art Nano precision plus machine, specialised needles that provide individual hair strokes and the highest quality organic dyes. This offers the most natural looking results that will last longer.
What's The Difference Between Microblading and Our Semi-Permanent Makeup Technique?
Microblading has become popular due to the fact that it is far more cost effective to train for and doesn't require an expensive machine thus making it far more accessible for someone starting out in business.
Microblading consumables such as the blades themselves are also far more cost-effective. It has the disadvantage of being completely dependent on the skill of the technician not just with the shape but also the manual pressure applied. Technicians need to be careful not to go too deep to cause complications but not too superficial that it doesn't last and fades very quickly.
Semi-permanent eyebrow tattooing is done via a handheld machine. The cost of the machine varies as with all electrical equipment. Your Sony smart TV and the Dyson Hoover will set you back far more than cheaper versions. The Nano precision plus machine is a state of the art and top rated within the semi-permanent industry. It uses specialised individual single-use needles. The depth of the pigment is placed far easily and more uniformly by these needles, so results are likely to be better and last longer.
Microblading
It is a manual method of implanting pigment
Can be variable depending on the skill of the technician
Creates individual hair strokes
Not for every skin type
Fades quicker than machine hair strokes
Semi Permanent Eyebrows Using Nano Precision Plus
​
Creates individual crisp realistic hair strokes
Uses state of the art precision plus device and specialised single needle to implant pigment
Multiple colours can be utilised to achieve the most natural look
SAFE for all skin types
Better, longer lasting retention then microblading
So if you don't want to spend more than five to ten minutes applying make-up and you want a flawless finish without the fuss, you might want to consider Semi-Permanent Make-Up at LasaDerm with Zam D. It's the perfect solution for those who want to save time off their beauty routine.
Before And After Photos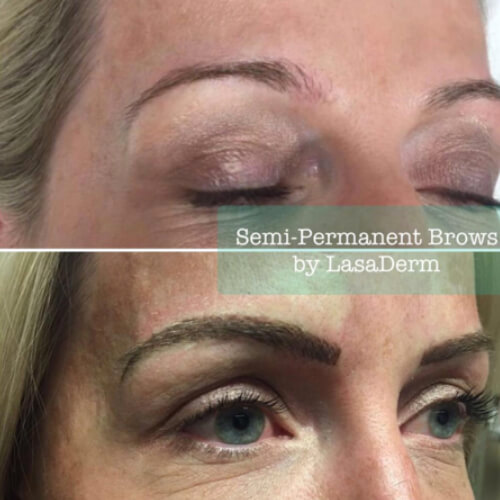 Customer Feedback – Emma April 2018
Until you get your brows professionally shaped and tattooed, it's difficult to truly understand how much a good brow can transform your face. I feel like my whole face has been lifted and my skin miraculously appears clearer. I don't always wear make-up but my brows are pretty much always groomed.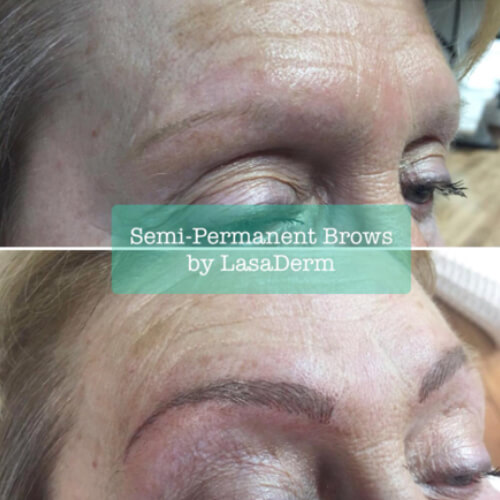 Customer Feedback – Annette Dec 2018
It's only when I look back at old pictures of myself that I truly notice what a difference taking great care of my brows has made to my face. I feel more confident in close-up photos, my face has more structure, and on low-make-up days I still look pulled together.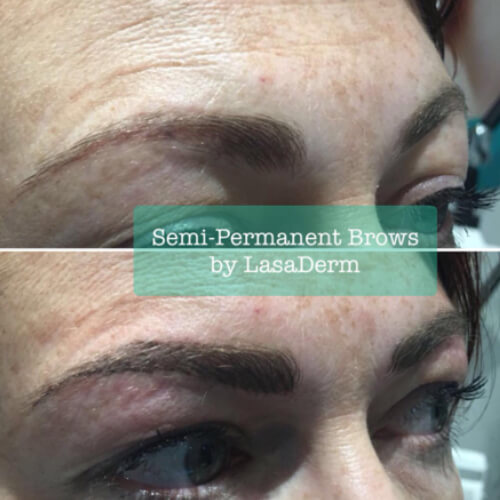 Customer Feedback – Carol October 2017
When I wake up, I don't really have to do anything to my brows as they're tattooed onto my face. They make the whole getting ready process so much quicker and I've had lots of compliments on them.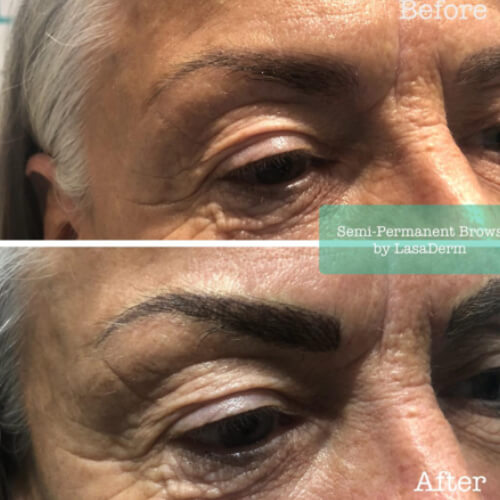 Customer Feedback – Nasima February 2018
Im so thrilled with my brows, especially as I dont have to do anything when I wake up as my brows always look perfect. I dont wear alot of make up but the difference it makes when im all dressed up is great and I love the compliments from the young girls at school. They think that their Maths teacher is now a trend setter. I suppose there has to be first for everything.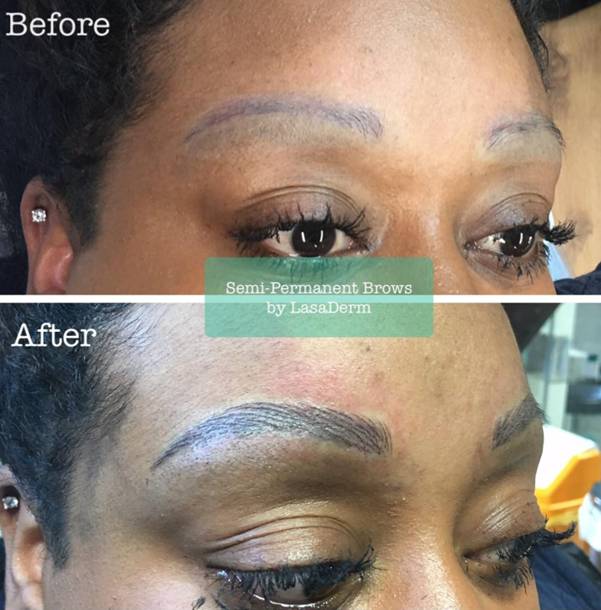 Customer Feedback – Judith November 2018
I absolutely love my brows. They make my morning getting ready routine so much quicker and it's a real plus on a lazy no makeup day as I still feel pretty groomed. I have just been away on holiday and not having to worry about my eyebrow pencil coming off after a swim or even when I get sweaty in the heat is such a relief. I really didn't realise how much difference having nice eyebrows make to your face. I would recommend Zam D – she really is amazing.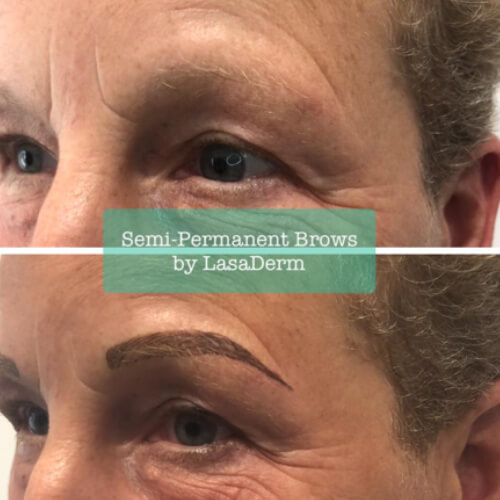 Customer Feedback – Denise September 2018
I'm absolutely thrilled with my eyebrows as being blond you really couldn't see them before. Being busy I didn't really have time to pencil them in and couldn't really see close up to do that anyway. They look really natural. It's only when I look back at old pictures of myself that I truly notice what a difference having my new brows has made to my face.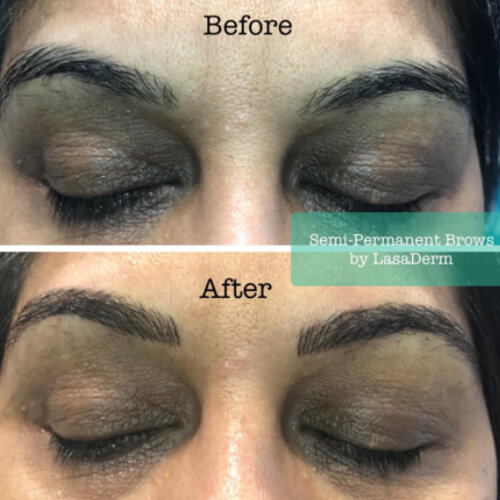 Customer Feedback – Marina June 2017
I really had to get my eyebrows threaded every couple of weeks to keep even a remotely good shape. My semi permanent brows have really taken the hassle out of that as all I have to do is just pluck the stray hairs as my shape is drawn on permanently and I just need to tidy. Whilst I thought it was a little expensive I think I may even be saving money not having to thread at all. It's definitely been worth it for me.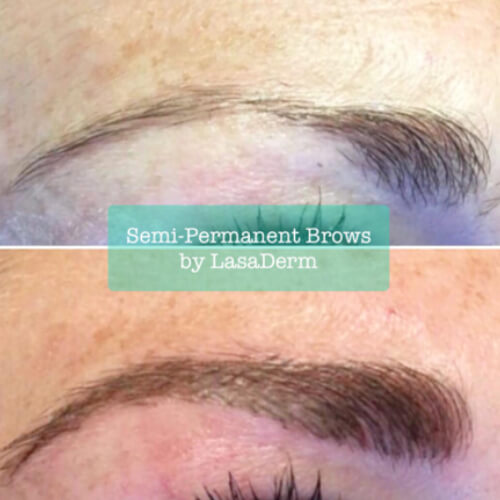 Customer Feedback – Janette April 2018
I absolutely love everything about my eyebrows as they look so natural. You can't actually tell that they're not mine. Zam D is amazing and so methodical.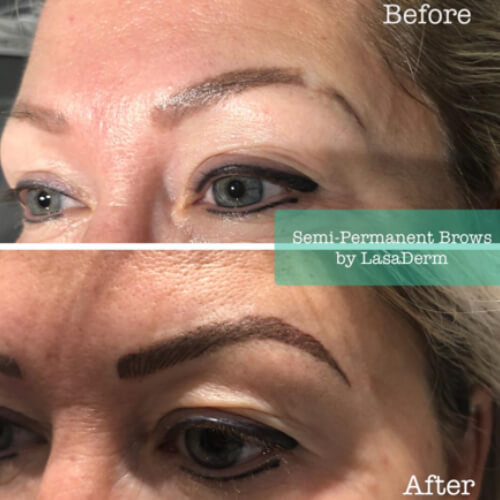 Customer Feedback – Donna July 2018
My eyebrows were over plucked and patchy. The difference it makes in the morning is great and not having to worry about wiping them off accidentally during the summer when it's hot is a relief. While it may seem pricey, it's once a year at worse and sometimes longer, which I think is pretty good value as it takes the hassle out of doing your eyebrows every morning.